How to Get Upgraded on Flights:
7 steps you can take to seriously improve your chances:
Flying in style and comfort is a dream for many travelers and a dream that can come true if you know how to get upgraded on flights. I've been lucky enough to experience the sweet bliss of being pulled aside right at the boarding gate to be told I've been given an upgrade a number of times. Ah, heaven..
One way to enhance your travel experience is by securing an upgrade on your flight. While getting upgraded is not guaranteed, there are several strategies you can employ to increase your chances of enjoying the perks of a higher class cabin. In this blog post, we will focus on how to get upgraded on flights and make your journey even more enjoyable.
How to Get Upgraded on Flights – 7 Main Steps you can take..
1. Loyalty Programs
One of the most effective ways to increase your chances of getting upgraded is by joining a frequent flyer program. Many airlines offer loyalty programs that reward frequent travelers with various benefits, including complimentary upgrades. By accumulating miles and maintaining a high status within the program, you significantly enhance your chances of being upgraded on your next flight.
One of my personal favorite Loyalty Programs is Aegean Airlines' Miles + Bonus which is part of Star Alliance. As of writing, you can receive Gold Status with Star Alliance much quicker than with other Star Alliance airlines.
2. Fly with Less Popular Airlines and Routes
Choosing to fly with less popular airlines or on less crowded routes can also work in your favor when it comes to securing an upgrade. Airlines are more likely to upgrade passengers on flights that have a lower occupancy rate. By opting for less popular airlines or routes, you increase the likelihood of having extra seats available in higher class cabins, making an upgrade more feasible.
3. Dress and Behave Professionally
First impressions matter when it comes to getting upgraded. Dressing smartly and professionally may give you an edge over other passengers. While there is no specific dress code, it is generally advisable to avoid overly casual attire and opt for a more polished look. Additionally, maintaining a polite and friendly demeanour towards airline staff can also increase your chances of being considered for an upgrade.
4. Flight Timing
The timing of your flight can play a significant role in your chances of being upgraded. Flights that are less busy, such as morning or midweek flights, are more likely to have available upgrades. By being flexible with your travel plans and choosing flights during off-peak hours or less popular days, you increase the likelihood of securing an upgrade.
5. Special Occasions
If you are celebrating a special occasion, such as a honeymoon, birthday, or anniversary, make sure to inform the airline in advance. Some airlines may offer complimentary upgrades to passengers celebrating important milestones. While not all airlines provide this service, it is worth a try to let them know about your special occasion and see if any upgrades are available.
6. Last-Minute Upgrades
If you haven't been upgraded before your flight, there is still a chance to get a last-minute upgrade at the airport. Airlines sometimes offer upgrade opportunities at discounted rates when they have unsold seats in the higher class cabins. Keep an eye out for upgrade offers at check-in or while waiting at the gate. It is important to note that these opportunities are not guaranteed, but they can be a great way to secure an upgrade at a lower cost.
7. Volunteer to Give Up Your Seat
Volunteering to give up your seat on a flight can potentially increase your chances of getting a flight upgrade. Airlines often oversell their flights, anticipating that some passengers may not show up. In such cases, they may seek volunteers willing to give up their seats in exchange for compensation or other perks, such as flight vouchers, lounge access, or even a seat upgrade.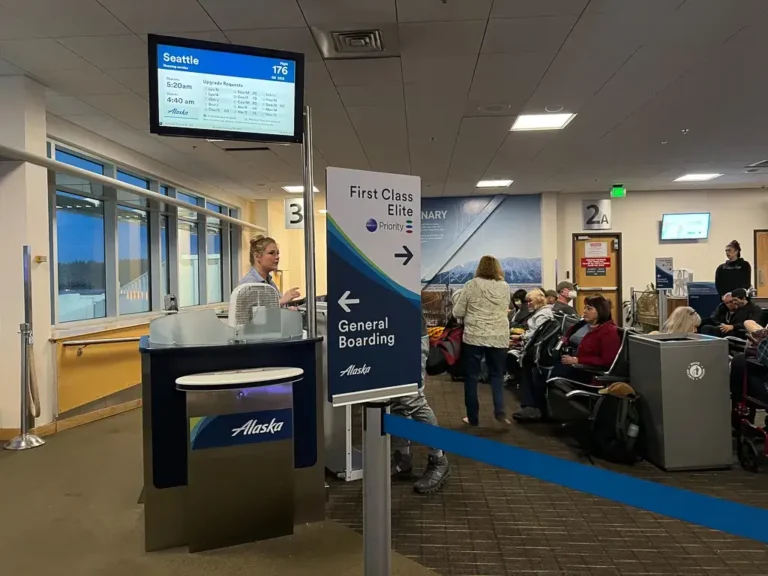 How to Get Upgraded on Flights – Conclusion:
While getting upgraded on flights is not guaranteed, employing these strategies can increase your chances of enjoying the perks of a higher class cabin. Remember to join loyalty programs, dress and behave professionally, opt for less popular airlines or routes, choose strategic flight timings, inform the airline about special occasions, and look out for last-minute upgrade offers. By combining these methods, you might just find yourself enjoying a luxurious upgrade on your next flight. Happy travels!
But first, check out our 5 Ways You Can Get Cheap Business Class Flights
Our Best Free Places to Visit in New York That are Absolutely FREE!
Our Best 10 Affordable Vacation Destinations if you are on a tight budget.
Our 10 Best Budget Travel Tips: Explore the World Without Draining Your Bank Account.
These are our Top 10 Best Travel Destinations Worldwide 2023
Our Absolute Best list of 10 Less Touristy Places to Travel in Europe 2023
Australia: A Traveler's Paradise: Best Australian Destinations 2023
How to Get Upgraded on Flights – By David John
How to Get Upgraded on Flights Cover Photo: emirates
Additional images: adobe colourbox istock shutterstock unless otherwise stated.
Was our 'How to Get Upgraded on Flights' helpful to you?
Let us know your thoughts in the comments below..
And if you are looking for a specific piece of information, please do comment below..