Best Less Touristy Places to Travel in Europe:
MUST SEE Underrated Europe 2023:
As travel enthusiasts, we often seek destinations that offer not just beauty, but also a sense of authenticity away from the tourist crowds. Europe, with its diverse cultures and landscapes, hides numerous hidden treasures that are waiting to be discovered. If you're yearning for a unique and less touristy adventure, here are our 10 off-the-beaten-path destinations to consider in 2023. Enjoy!
Best Less Touristy Places to Travel in Europe 1: Ljubljana Slovenia
First up is Ljubljana, Slovenia's capital and largest city, it is known for its university population and lots of lots of green areas including the expansive Tivoli Park.
Slovenia gets a little left out, often overlooked by tourists choosing to visit Croatia, Italy or even Austria instead, yet the country does seem like it's right out of a Fairytale.
If you're planning a trip to Slovenia you simply must spend some time in the country's charming capital.
Part of why the city is such a wonderful place to visit is because of the architectural works of Jože Plečnik, so make sure you visit many of his buildings and projects as much as you can while you're there.
Another plus point is just an hour and 20 minutes away lies the fabulous Lake Bled
Why Dragon City?
Best Less Touristy Places to Travel in Europe 2: Annecy France
Venice tops many travel lists and for good reason, yet with sky-high visitor numbers, Venice's over tourism is becoming an evermore important issue, not just for Italy, but for sustainable tourism itself.
But to really give Venice's structure and it's local a break, consider a trip to Annecy France instead.
This small French town sits against the backdrop of the Alps which peek over the roofs of the colorful 16th century houses all lining the canals.
Come the summer, it's certainly busier but there's plenty of room to enjoy even a coffee at the various cafes or you can hire a small boat soak the news no elbow adjustment or you can hire a small boat soak the views, no elbow-jostling or tiptoe viewing required
Best Less Touristy Places to Travel in Europe 3: Tellaro Italy
Next up is Tellaro Italy, perched on a hill along the Ligurian coast is the picturesque fishing village of Tellaro. It's colored buildings worn by the sun and the sea cocoon the small Harbor that opens into the ocean.
It's ranked as one of the most beautiful villages in Italy and you can see why it's been a lure for poets and artists looking for inspiration over the centuries.
When you first get to Tellaro you'll find a maze of tiny little Lanes and passageways they're simply tempt you to explore, and with the town being so small you won't get lost for long as you'll soon find yourself back in the piazza or down by the little Harbour.
After a few days you'll know and will really get to enjoy every nook and cranny of this town.
Best Less Touristy Places to Travel in Europe 4: Symi Greece
This is one of those precious gems in the Dodecanese Island group.
Colourful architecture of its villages is one of the Island's highlights, with postcard like mentions popping up as soon as you start to approach the port.
The beaches have crystal Clear waters, and plenty and plenty and plenty of secluded areas for those of you who just want to get away.
Best Less Touristy Places to Travel in Europe 5: Monschau Germany
A town in Western Germany near the Belgium border, so for anyone who likes city breaks, this could be a very interesting one for you to visit this year.
It's known for its medieval Center, with half timbered houses and of course the famous narrow cobblestone streets.
The most characteristic thing about Monschau are probably the idyllic and historical houses that are all located in the old town, as the Old Town itself is an attraction, but you can also wonder around the outside of the castle which was built in the 13th century.
Not only at the castle Monchelle can you enjoy some magnificent views though.
Best Less Touristy Places to Travel in Europe 6: Outer Hebrides Scotland
Off the west coast of Scotland the Isle of Lewis and the Isle of Harris form the main island in the Outer Hebrides.
Now they may sound like two separate Islands but Lewis and Harris are actually two parts of the one Island with the largest town, Stornoway on the East Coast.
Probably the most famous site on the Isle of Lewis are the standing Stones located on the west coast.
The Lewis Stones date back to the neolithic age meaning that they're about 5,000 years old.
The standing Stones consists of a main stone circle.
This is a really out of the way location if you're visiting Scotland.
So if you're looking for unspoiled beaches and a diverse landscape in such a small area and to walk cycle or hike in beautiful countryside this is the place you need to visit.
Best Less Touristy Places to Travel in Europe 7: Matera Italy
Within a remote corner of Southern Italy, Matera is definitely one of the most unique and spectacular destinations for you to check out this year.
Abandoned caves, ancient neighbourhoods and a series of limestone grottos, baroque churches and even more caves.
Matera still has that little air of being undiscovered.
You can roam through the labyrinth of narrow cobblestone streets and the uneven staircases.
It's a perfect location for you to just wander and get lost.
Remarkably, it was regarded as the shame of Italy in the 1950s, since then the extraordinary environment of Matera has now been recognized as a European capital of Culture.
Out of all the places in Italy that you could go this year this might be a very good option.
Best Less Touristy Places to Travel in Europe 8: Maastricht The Netherlands
This city is the perfect place to go if you loved Amsterdam but don't want to get sucked into the tourist traps of a huge capital city again.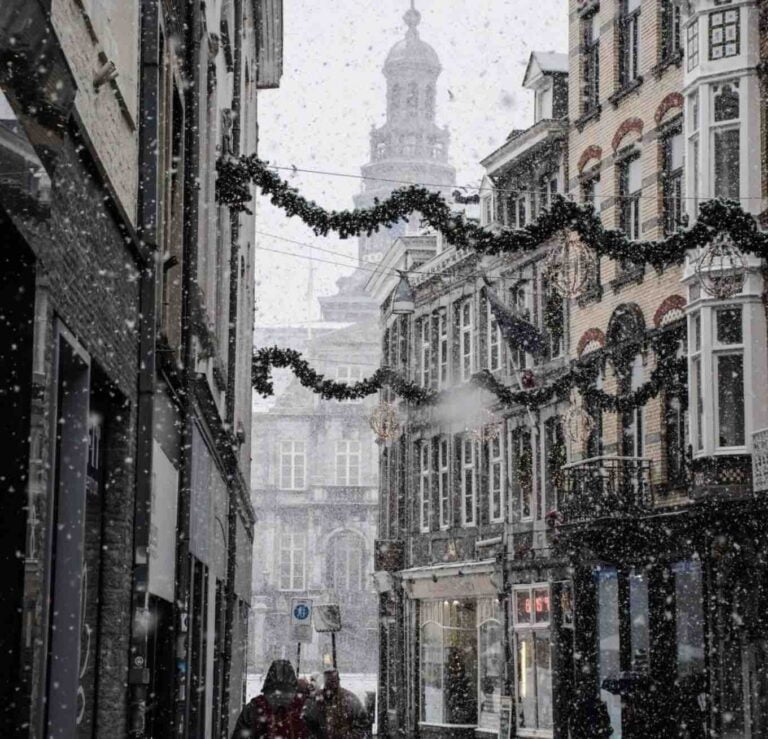 Some of the best food in the area can surprisingly be found in the student geared restaurants that cater to an international crowd. When morning comes around you can browse books and get your caffeine fix at the same time at a former church that's now used as a bookstore, all complete with a coffee shop inside.
Also check out the Maastricht Underground which is a walking tour of the city's underground caves.
If you're looking for a new European city to visit you should consider Maastricht.
Best Less Touristy Places to Travel in Europe 9: Segovia Spain
There were plenty of underrated cities in Europe and I have to say Segovia in Spain is one of them.
Its location is not so far away from Madrid, roughly an hour by bus, but it is as different from Madrid as it can be. Surrounded by pretty high mountains covered in snow in winter, Segovia's architecture is very special – huge aqueducts in the city centre and a castle which somewhat resembles the Disneyland Castles you see today.
It has old medieval streets with plenty of beautiful churches and cathedrals.
The good thing about Segovia is once you get here it will start to feel like it's an open air museum.
The city just doesn't look like a real one at all and it kind of resembles a huge mockup of what a fabulous medieval city would have been in the past. Sublime..
Best Less Touristy Places to Travel in Europe 10: Pula Croatia
The largest city of Croatia is in Istria County and is located at southern tip of the Peninsula.
It's architecture is mainly Roman inspired as Istria was conquered by the Romans in 177 BC.
People around the world visit Pula for its historical attractions and one being the famous Roman amphitheater or the Temple of Augustus located in the towns main Square.
Why visit Rome which is going to be so busy when you can come right here.
Vodnjan
Once you do visit Pula there is actually another hidden gem -the picturesque town of Vodnjan, which is located just north of Pula and home to roughly 6,000 people.
It's quaint, full of winding streets, and again very Italianate in its architecture but what you will find here are wonderful displays of street art which makes it very interesting and as I have said a hidden gem.
Please remember to get a hotel in Pula before heading to Vodnjan as there are no hotels in that town.
10 Best Less Touristy Places to Travel in Europe – Conclusion:
There you have it folks. In a world where popular tourist destinations often dominate travel itineraries, venturing off the beaten path to explore the best less touristy places in Europe is a refreshing and rewarding choice. From fairytale-like towns to breathtaking natural landscapes, these hidden gems offer a chance to connect with local culture, savor authentic experiences, and escape the crowds.
Embrace the allure of off-the-beaten-path destinations, where tranquility, charm, and genuine encounters await, creating cherished memories that will stay with you long after the journey ends. So, dare to wander beyond the usual and discover Europe's lesser-known treasures for an unforgettable and enriching travel experience.
Get there now!
FAQ – Best Less Touristy Places to Travel in Europe
1. What are some less touristy destinations in Europe worth visiting?
Discover hidden gems like Český Krumlov (Czech Republic), Faroe Islands (Denmark), Matera (Italy), Porto (Portugal), Lake Bled (Slovenia), and Lyon (France), among others.
2. Why should I consider visiting less touristy places in Europe?
Less touristy destinations offer a more authentic and tranquil experience, allowing you to immerse yourself in local culture, enjoy untouched landscapes, and avoid crowds.
3. What are some charming small towns to explore in Europe?
Explore quaint towns like Rothenburg ob der Tauber (Germany), Hallstatt (Austria), Colmar (France), and Sintra (Portugal) for fairytale-like settings and historic charm.
4. Can I find picturesque natural landscapes in less touristy places?
Absolutely! The Faroe Islands, Lake Bled, Plitvice Lakes (Croatia), and the Scottish Highlands offer breathtaking and untouched natural beauty.
5. Are there any less crowded alternatives to popular tourist cities?
Yes, consider Porto instead of Lisbon (Portugal), Bruges instead of Brussels (Belgium), and Valencia instead of Barcelona (Spain) for equally captivating experiences.
6. What unique experiences can I have in less touristy places in Europe?
Participate in local festivals, savor authentic regional cuisines, interact with friendly locals, and explore historical sites without the tourist rush.
7. How do I get to these less touristy destinations?
Most less touristy places have regional airports or are well-connected by trains and buses, making them accessible and convenient to reach.
8. Are there any budget-friendly options for accommodation and dining in these places?
Less touristy destinations often offer more affordable accommodation and dining options compared to major tourist hubs.
9. Can I find cultural attractions and historical sites in less touristy places?
Yes, many less touristy destinations boast rich cultural heritage, historic landmarks, and unique museums that offer valuable insights into local history and traditions.
10. Is it safe to travel to less touristy places in Europe?
Generally, less touristy places in Europe are safe for travelers. However, it's always recommended to take standard precautions and stay informed about local conditions.
11. How can I plan an itinerary that includes less touristy places in Europe?
Research the destinations you wish to visit, plan transportation between them, and consider a mix of popular and lesser-known places to create a well-rounded itinerary.
12. How many days should I plan for exploring less touristy places in Europe thoroughly?
The duration of your trip depends on the number of destinations you want to cover. For a more immersive experience, consider spending at least 2-3 days in each less touristy place.
With special thanks to Lifestyle Hal
For more destinations check out the links below.
Embark on an unforgettable adventure by backpacking in the USA. From the rugged beauty of national parks like Yosemite and Grand Canyon to the vibrant cities of New York and San Francisco, the USA offers an array of experiences for every traveler.
Exploring the Uncharted: 5 Must-Visit Places in South Sudan South Sudan, the world's newest nation, is an undiscovered gem waiting to be explored. The Official advice is NOT TO TRAVEL TO SOUTH SUDAN! Anyway, moving right along.. During my journey through this uncharted territory, I uncovered hidden treasures, savored local flavors, and marveled at its…
12 Best Free Places to Visit in New York
Our Best Free Places to Visit in New York That are yes, Absolutely FREE!
Our Best 10 Affordable Vacation Destinations if you are on a tight budget.
Our 10 Best Budget Travel Tips: Explore the World Without Draining Your Bank Account.
These are our Top 10 Best Travel Destinations Worldwide 2023
Our Absolute Best list of 10 Less Touristy Places to Travel in Europe 2023
Australia: A Traveler's Paradise: Best Australian Destinations 2023
Our 10 Best Less Touristy Places to Travel in Europe: by David John
10 Best Less Touristy Places to Travel in Europe Cover Photo by Neven Krcmarek
Best Less Touristy Places to Travel in Europe flickr images licensed under CC BY 2.0
Additional images: adobe  ·  colourbox  ·  istock  ·  pexels  ·  shutterstock  ·  unsplash  unless otherwise stated.
Were our '10 Best Less Touristy Places to Travel in Europe' helpful to you?
Let us know your thoughts in the comments below..
And if you are looking for a specific piece of information, please do comment below..