Top 10 Things to do on Corregidor Island Siargao:
Casolian Island Philippines: Our 10 Best Things to Do
Casolian Island / Corregidor Island: This island goes by both names – a little confusing as there is actually another Corregidor Island in the Philippines, but more on that later..
Welcome to Casolian Island / Corregidor Island Siargao, a hidden gem nestled amidst the turquoise waters of the Philippines. This idyllic tropical paradise offers a serene escape from the bustling city life, inviting travelers to immerse themselves in its natural beauty and abundant activities. From pristine beaches and lush landscapes to thrilling water adventures and cultural explorations, Casolian Island has something for every type of traveler. Join us as we uncover the most exciting things to do on this enchanting island, ensuring an unforgettable journey of relaxation and adventure.
10 Things to do on Corregidor Island Siargao:
1. Bask in the Sun on Casolian Beaches:
The stunning beaches of Casolian Island are simply irresistible. Sink your toes into soft white sands, bask in the warm tropical sun, and swim in the crystal-clear waters. Be sure to visit the serene Casolian Cove and Secret Beach, offering secluded spots for pure relaxation. You can also go island-hopping to some of the stunning nearby islands..
2. Island Hopping Extravaganza:
Embark on an island hopping tour and visit neighboring islands like Naked Island, Guyam Island and Daku Island. Most folks start their island hopping adventure from the much larger Siargao Island to the north. Each island offers its unique charm, from hidden lagoons and limestone cliffs to picturesque views and lush greenery.
Naked Island Siargao
Naked Island, located off the captivating shores of Siargao in the Philippines, is a hidden gem for beach lovers and adventure seekers. True to its name, this uninhabited islet boasts pristine white sands devoid of any vegetation, creating a picture-perfect tropical paradise. Accessible through island hopping tours, Naked Island offers a unique experience of basking in the sun on its untouched shores, surrounded by crystal-clear turquoise waters. With no structures or trees to obstruct the view, visitors can revel in the sheer beauty of the open sea and indulge in moments of tranquility on this idyllic slice of paradise.
Guyam Island Siargao
Guyam Island, nestled amidst the azure waters of Siargao in the Philippines, is a tiny yet enchanting islet that exudes pure tropical bliss. Accessible via island hopping tours, this palm-fringed paradise invites travelers to experience a tranquil escape like no other. With its powdery white sands and swaying coconut trees, Guyam Island offers a secluded haven for beachcombers, sunbathers, and nature enthusiasts. Snorkelers can explore the colorful underwater world surrounding the island, while those seeking relaxation can find solace in its serene ambiance. Embrace the laid-back charm of Guyam Island and immerse yourself in the serenity of this picturesque retreat.
Daku Island Siargao
Daku Island, nestled off the coast of Siargao in the Philippines, is a captivating tropical gem that enchants visitors with its natural beauty and warm hospitality. This larger island, compared to its neighboring islets, boasts expansive stretches of powdery white sand and inviting turquoise waters. Accessible through island hopping tours, Daku Island is a perfect destination for beach lovers and water sports enthusiasts. Aside from its breathtaking scenery, the island also offers opportunities to interact with friendly locals and indulge in delectable seafood feasts. Whether you seek adventure or relaxation, Daku Island welcomes all to experience its laid-back charm and embrace the allure of island life.
3. Surfing in Pacific-Style Waves:
Siargao is renowned for its epic surf breaks, and Corregidor Island is no exception. Experience the thrill of surfing in the Pacific-style waves, surrounded by stunning natural vistas.
4. Snorkeling and Scuba Diving Delights: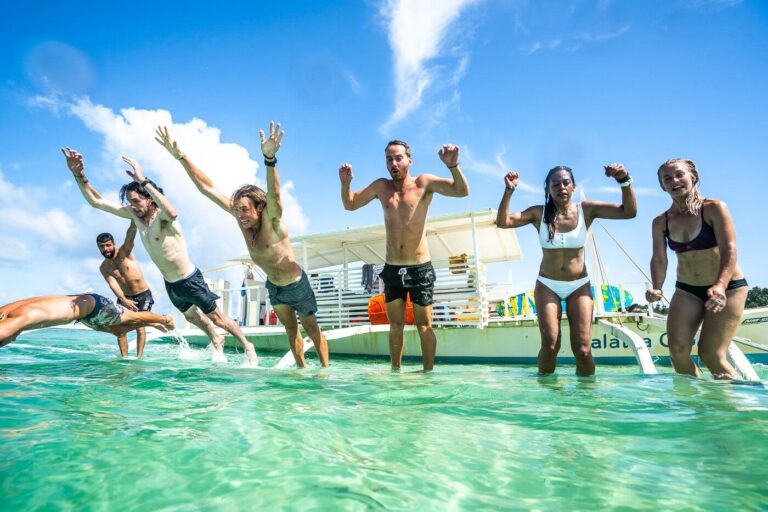 Unveil the underwater wonders surrounding Corregidor Island through snorkeling and scuba diving. Swim among vibrant coral reefs, encounter colorful marine life, and discover the island's captivating marine biodiversity. Maybe not known as the best snorkeling and diving in the Philippines, but still worth doing.
5. Explore the Casolian Forest Reserve:
Take a trek through the lush Casolian Forest Reserve, embracing the island's natural beauty and spotting local wildlife. The forest's biodiversity will captivate nature enthusiasts and photographers alike.
6. Thrilling Water Sports:
Get your adrenaline pumping with exciting water sports activities like jet skiing and kayaking. The island's calm waters provide the perfect setting for these exhilarating adventures.
Try stand-up paddleboarding in the calm waters surrounding Corregidor Island, a peaceful way to admire the island's natural beauty and perhaps catch a glimpse of playful dolphins.
7. Sunset Cruises and Dolphin Watching:
Witness breathtaking sunsets over the horizon of Casolian Island during a relaxing sunset cruise. If you're lucky, catch glimpses of playful dolphins dancing in the waves during dolphin-watching tours.
8. Go Fishing:
Experience traditional Filipino fishing by joining local fishermen on a fishing expedition. Try your hand at catching fresh seafood, which can later be prepared by skilled island chefs.
9. Indulge in Fresh Seafood Delicacies:
Savor the flavors of the sea with delectable seafood dishes prepared by island restaurants. Feast on mouthwatering grilled fish, succulent prawns, and other delightful delicacies
10. Immerse in Local Culture:
Interact with the warm and friendly locals of Corregidor Island and Siargao, learning about their traditions, customs, and way of life. Participate in cultural events and try delicious local delicacies. Filipinos are known worldwide for their warm friendly nature.
Corregidor Island Siargao FOOD: EAT!
Corregidor Island, apart from its historical significance and natural beauty, also offers a delightful culinary experience to visitors. The island's restaurants and dining facilities serve a variety of delicious dishes, showcasing the flavors of Filipino cuisine. Indulge in fresh seafood caught from the surrounding waters, mouthwatering local delicacies, and traditional Filipino meals that delight the taste buds. Whether savoring seafood delicacies, enjoying hearty stews, or trying the island's specialties, dining on Corregidor is a treat for food enthusiasts. The unique blend of history, natural beauty, and delectable cuisine makes every meal on Corregidor Island a memorable and enjoyable experience.
Frequently Asked Questions (FAQ) – Corregidor Island Siargao, Philippines:
1. Where is Corregidor Island located?
Corregidor Island is located off the captivating shores of Siargao, an enchanting island in the province of Surigao del Norte, Philippines.
2. How do I get to Corregidor Island from Siargao?
To reach Corregidor Island, you can book an island hopping tour or hire a private boat from Siargao. The journey usually takes around 30 minutes to an hour, depending on the sea conditions.
3. What are the top attractions on Corregidor Island?
Corregidor Island offers a range of attractions, including pristine beaches, scenic viewpoints, rock formations, and the opportunity for thrilling water sports like surfing and snorkeling.
4. Is Corregidor Island suitable for non-surfers?
Yes, Corregidor Island caters to both surfers and non-surfers. Besides surfing, visitors can enjoy relaxing on the beaches, exploring the island's natural beauty, and engaging in activities like paddleboarding and kayaking.
5. Can I swim or snorkel around Corregidor Island?
Yes, swimming and snorkeling are popular activities around Corregidor Island. The crystal-clear waters offer excellent snorkeling opportunities to observe marine life and vibrant coral reefs.
6. Are there accommodations available on Corregidor Island?
Currently, there are no accommodations available on Corregidor Island itself. Visitors usually stay on Siargao, where a wide range of resorts, hotels, and guesthouses are available.
7. Are there food and drinks available on Corregidor Island?
Corregidor Island may not have food and drink stalls, so it's advisable to bring your own snacks and beverages when visiting. Some island hopping tours may provide meals during the excursion.
8. What are the best activities to do on Corregidor Island?
The top activities on Corregidor Island include island hopping, surfing, snorkeling, stand-up paddleboarding, exploring rock formations, and relaxing on the idyllic beaches.
9. Is there an entrance fee to Corregidor Island?
As of my knowledge cutoff in September 2021, there was no official entrance fee to visit Corregidor Island itself. However, there may be fees associated with organized island hopping tours.
10. Can I visit Corregidor Island on a day trip from Siargao?
Yes, Corregidor Island can be visited as a day trip from Siargao. Many tour operators offer day tours that include island hopping and exploration of the island's main attractions.
11. Are there restroom facilities on Corregidor Island?
There might be limited restroom facilities on Corregidor Island. It's recommended to use the restroom facilities available on your boat or at your starting point before heading to the island.
12. Is it necessary to book an island hopping tour in advance?
While it's not always necessary to book an island hopping tour in advance, it's advisable, especially during peak tourist seasons, to secure your spot and avoid any disappointment.
13. Can I visit Corregidor Island year-round?
Yes, Corregidor Island can be visited year-round. However, the best time to visit is during the dry season, from November to April, when weather conditions are most favorable for outdoor activities.
Corregidor Island Siargao: Final Thoughts
Corregidor Island Siargao is a haven of adventure and beauty, offering travelers an exceptional array of experiences. Whether you seek thrilling water activities, serene beach retreats, or cultural encounters, this enchanting island promises an unforgettable journey. Embrace the island's natural wonders, surf the Pacific-style waves, and explore the nearby attractions on Siargao Island. Your escapade to Corregidor will be filled with cherished memories and leave you yearning to return to this tropical paradise time and again.
Please Note: There is another Corregidor Island west of Manila at the mouth of Manila Bay. This Corregidor Island Siargao in this post is off the south coast of Siargao Island in the Philippines. This Corregidor Island is much smaller than the one in Manila Bay and is also known as Casolian Island. It's all a little confusing I know – best you visit both though to figure it all out..
For history go to Corregidor Island in Manila Bay, for tropical beach paradise – come to this Corregidor Island Siargao / Casolian Island instead..
Traveling to the Philippines?
Traveling to the Philippines is an enchanting adventure that promises a diverse tapestry of experiences. This archipelagic paradise in Southeast Asia boasts stunning beaches with crystal-clear waters, lush jungles teeming with biodiversity, and vibrant cities brimming with culture and history. From the world-famous white sand beaches of Boracay and the captivating limestone cliffs of Palawan to the bustling metropolis of Manila and the warm hospitality of its people, the Philippines captivates travelers with its unique charm.
Exploring the Uncharted: 5 Must-Visit Places in South Sudan South Sudan, the world's newest nation, is an undiscovered gem waiting to be explored. The Official advice is NOT TO TRAVEL TO SOUTH SUDAN! Anyway, moving right along.. During my journey through this uncharted territory, I uncovered hidden treasures, savored local flavors, and marveled at its…
Italy beckons travelers with its magnetic allure. From the captivating cities adorned with timeless architecture to the picturesque coastal towns and rolling vineyards, this Mediterranean gem offers a plethora of unforgettable experiences.
Exploring Greece's Timeless Treasures: Greece Best Places to Visit Top 10
Exploring Italy's Treasures: The Best Places to Visit in Italy in 2023
Our 10 Best Places to Visit in Venice: Come Explore the Enchanting Floating City
Unveiling the Enchanting Beauty: Our Best Places to Visit in Florence
Our Best Free Places to Visit in New York That are yes, Absolutely FREE!
Our Best 10 Affordable Vacation Destinations if you are on a tight budget.
Our 10 Best Budget Travel Tips: Explore the World Without Draining Your Bank Account.
These are our Top 10 Best Travel Destinations Worldwide 2023
Our Absolute Best list of 10 Less Touristy Places to Travel in Europe 2023
Australia: A Traveler's Paradise: Best Australian Destinations 2023
10 Things to do on Corregidor Island Siargao – by David John
Things to do on Corregidor Island Siargao Cover Image Courtesy: ep
Corregidor Island Siargao flickr images licensed under CC BY 2.0
Additional images: adobe, colourbox, istock, pexels, shutterstock, unsplash unless otherwise stated.
Was our 'Corregidor Island Siargao' info helpful to you?
Let us know your thoughts in the comments below..
And if you are looking for a specific piece of information, please do comment below..