Traveling to the Philippines? 7 Reasons You Should Go
Our Top 7 Reasons to Travel to the Philippines:
The Philippines is a nation of over 7,000 islands located in the western Pacific. Known for its stunning natural beauty, warm hospitality, and vibrant culture, the Philippines has become one of the hottest travel destinations in Southeast Asia. Here are some reasons why you should consider visiting the Philippines:
Traveling to the Philippines Reason 1 – The Beaches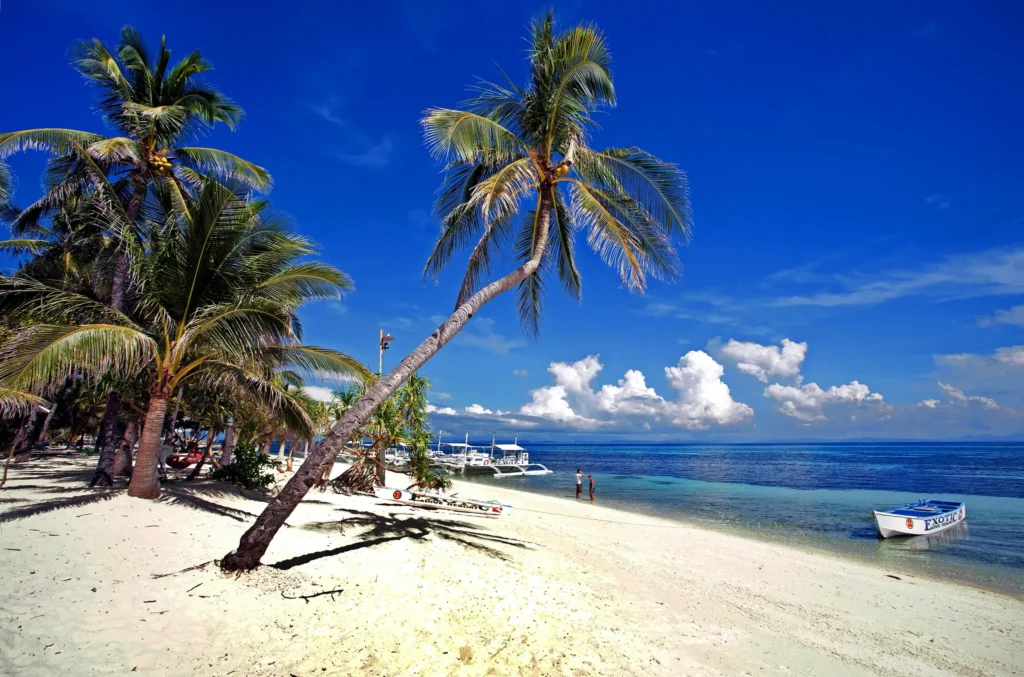 First thing you will notice traveling to the Philippines the beaches and islands stand out among other beaches in the world The most beautiful one is the White Sand beach in Boracay and it is always on the list of top 10 beaches in the world.
The Philippines is home to some of the most stunning beaches in the world. Its turquoise waters, pristine beaches, and world-class snorkeling and diving spots make it a paradise for beach lovers and water enthusiasts alike. From Palawan's El Nido to Boracay's White Beach, each beach has its own unique charm and beauty.
The beaches in the Philippines have crystal clear waters and are turquoise in colour. The Philippines is an archipelago that is made up for 7,107 islands and you will easily find your favourite beach.
Traveling to the Philippines Reason 2 – The Culture
The Philippines has a rich and unique cultural heritage that is reflected in its architecture, art, music, dance, and cuisine. From the richly decorated churches that mark the cityscape to the colorful festivals that are celebrated all across the islands, the Philippines offers a fascinating glimpse into the cultural diversity of Southeast Asia.
Calendar Of Philippine Festivals And Monthly Observances
Traveling to the Philippines Reason 3 – The Flora, Fauna, Nature..
In the Philippines you will find different kinds of birds, sea creatures, and animals. You will be able to find 200 species of mammals in the Philippines. It is also known for the Philippine Tarsier which is the smallest monkey in the world (not to mention weirdest looking).
There are 600 species of birds, and 300 species of amphibians, reptiles and the coral species are 400. You will also find here the giant white shark and Pandaka Pygmaea which is the smallest fish in the world, not to mention a huge list of Monsters and mythical creatures that belong to the folklore of the Philippines. Wait, there's more monsters creepers and creatures in the Philippines.
If you want to see great surroundings, the Chocolate Hills in Bohol will give you just that.
The Ifugao Rice Terraces in Banaue are sometimes called the "Eighth Wonder of the World" by Filipinos
and El Nido, which is a beautiful archipelago in Palawan.
There are 37 volcanoes you can climb, new lakes to discover, waterfalls to enjoy, and caves to explore. The Philippines is definitely for any nature lover.
Traveling to the Philippines Reason 4 – Rejuvenation and relaxation
You can have yourself pampered in the Philippines by getting a soothing body massage. Spas and massage places can be found all over the country. You can have a massage by, or even on the beach.
Traveling to the Philippines Reason 5 – The Food
Filipino cuisine is a fusion of Spanish, Chinese, and Malay influences, resulting in a vibrant and flavorful culinary scene. It features a variety of dishes, ranging from savory adobo to sweet and tangy lechon. The Philippines is also home to some of the world's best street food, such as balut (fertilized duck egg), bibingka (rice cake), and kwek-kwek (battered and fried quail eggs).
Check out our post on Philippines Street Food
Traveling to the Philippines Reason 6 – The People
Filipinos are known for their warm hospitality and friendly nature. As a visitor, you'll always feel welcome and at home in the Philippines. With a strong sense of community and family ties, Filipinos are happy to share their culture and traditions with visitors from around the world.
Traveling to the Philippines Reason 7 – The Adventure:
With so many islands to explore, adventure is never far in the Philippines. Whether you're looking to go snorkeling or diving in its crystal-clear waters, trek through the jungle to discover hidden falls, or climb up its majestic volcanoes, there's always an adventure just waiting to be had.
Traveling to the Philippines Bonus Reason – The Jeepnies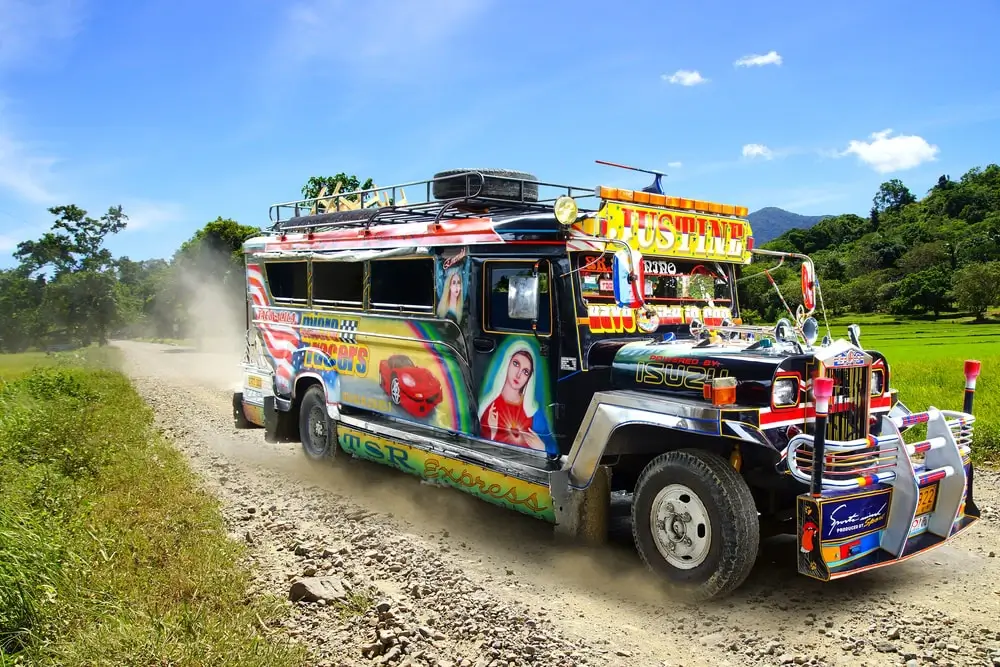 Riding a jeep is one thing you need to do when you come to the Philippines because it is so much fun riding one of these. It is also cheap and very windy because it does not have any air conditioning so the windows are always open.
The jeepney originated from the military jeeps that were left in the Philippines after World War 2. What the Filipinos did was to open the back of the jeep, placed 2 benches inside, gave it different designs, colours, flashy lights, and paintings.
A jeepney can accommodate 16 to 20 passengers in one journey, but some Filipinos don't have a problem hanging on to the back.
Jeepnies are a cheap way to get around the country and when you ride one, it can also be a chance for you to meet locals and gain more friends during the trip.
Our more detailed post about the Jeepney in the Philippines
Frequently Asked Questions (FAQ) – Traveling to the Philippines:
1. Do I need a visa to travel to the Philippines?
Visitors from most countries are granted a visa-free entry for a certain period (usually 30 days or less). However, it's essential to check the specific visa requirements based on your nationality and the purpose of your visit.
2. What is the best time to visit the Philippines?
The best time to visit the Philippines is during the dry season, which typically runs from November to April. This period offers pleasant weather and is ideal for outdoor activities and exploring the islands.
3. What are the must-visit destinations in the Philippines?
The Philippines boasts numerous must-visit destinations, including Boracay for its white-sand beaches, Palawan for its stunning landscapes, Cebu for historical sites and lively city life, and Siargao for world-class surfing.
4. Is it safe to travel to the Philippines?
While the Philippines is generally safe for tourists, it's essential to exercise common travel precautions. Avoid displaying expensive items, be cautious in crowded areas, and stay informed about local news and advisories.
5. What are some popular Filipino dishes to try?
Don't miss out on trying classic Filipino dishes like adobo (marinated meat), sinigang (sour soup), lechon (roast pig), and halo-halo (a refreshing dessert). The diverse cuisine offers a delightful blend of flavors.
6. What is the local currency in the Philippines?
The local currency is the Philippine Peso (PHP). ATMs are widely available in cities and major tourist areas, and credit cards are accepted in most establishments.
7. Is English widely spoken in the Philippines?
Yes, English is widely spoken and understood throughout the Philippines, making it easy for English-speaking travelers to communicate with locals.
8. What are some popular activities to do in the Philippines?
The Philippines offers a range of activities, such as island hopping, snorkeling, scuba diving, surfing, hiking to waterfalls, and exploring cultural heritage sites.
9. Can I drink tap water in the Philippines?
It is recommended to drink bottled water or boiled water in the Philippines to avoid any potential health issues.
10. How can I get around within the Philippines?
Domestic flights are available to connect major cities and islands. Local transportation options include tricycles, jeepneys, buses, and taxis. For island hopping, ferries and boats are commonly used.
11. Are there any cultural norms or etiquettes I should be aware of?
Yes, the Philippines has some cultural norms to be mindful of, such as showing respect to elders and addressing them with "po" and "opo." Removing shoes before entering homes and religious places is also customary.
12. What are the popular festivals in the Philippines?
The Philippines hosts numerous colorful festivals, including Sinulog in Cebu, Ati-Atihan in Kalibo, and Pahiyas in Lucban. These festivals showcase vibrant traditions, dances, and elaborate street parades.
13. Is it necessary to tip in the Philippines?
Tipping is not mandatory but appreciated in the Philippines. A standard tip of around 10% is customary in restaurants, and small tips are welcomed for services like taxi rides and hotel staff.
14. Are there any health precautions I should take before traveling to the Philippines?
It is advisable to consult with a healthcare professional about recommended vaccinations and health precautions for traveling to the Philippines.
15. What are the emergency contact numbers in the Philippines?
The emergency number for police, fire, and medical assistance in the Philippines is 911. It is essential to have this number handy in case of emergencies.
Final Thoughts
Whether you're a beach bum, an adventure seeker, a cultural explorer, or a foodie, the Philippines offers something for everyone. So, pack your bags and get ready for a journey through stunning islands and colorful cultures in the Philippines.
So what are you waiting for?
Italy beckons travelers with its magnetic allure. From the captivating cities adorned with timeless architecture to the picturesque coastal towns and rolling vineyards, this Mediterranean gem offers a plethora of unforgettable experiences.
Our 5 Top Beaches in the Philippines
The top beaches of the Philippines have attracted tourists from different parts of the world because of the white sand and clear water. It surely is a part of Filipino pride to have such beautiful beaches because there's few other places in the world that can give you the same experience.
Exploring the Uncharted: 5 Must-Visit Places in South Sudan South Sudan, the world's newest nation, is an undiscovered gem waiting to be explored. The Official advice is NOT TO TRAVEL TO SOUTH SUDAN! Anyway, moving right along.. During my journey through this uncharted territory, I uncovered hidden treasures, savored local flavors, and marveled at its…
Best Places To Visit In Palau
Palau is a place where every corner holds a new surprise, whether it's an underwater wonderland, a serene waterfall, or a glimpse into its cultural heritage.
---
Exploring Greece's Timeless Treasures: Greece Best Places to Visit Top 10
Exploring Italy's Treasures: The Best Places to Visit in Italy in 2023
Our 10 Best Places to Visit in Venice: Come Explore the Enchanting Floating City
Unveiling the Enchanting Beauty: Our Best Places to Visit in Florence
Our Best Free Places to Visit in New York That are yes, Absolutely FREE!
Our Best 10 Affordable Vacation Destinations if you are on a tight budget.
Our 10 Best Budget Travel Tips: Explore the World Without Draining Your Bank Account.
These are our Top 10 Best Travel Destinations Worldwide 2023
Our Absolute Best list of 10 Less Touristy Places to Travel in Europe 2023
Australia: A Traveler's Paradise: Best Australian Destinations 2023
Our Top 5 Reasons for Traveling to the Philippines – by Ysabel Carbalo
5 Reasons for Traveling to the Philippines Cover Image Courtesy: at
Traveling to the Philippines flickr images licensed under CC BY 2.0
Additional images: adobe, colourbox, istock, pexels, shutterstock, unsplash unless otherwise stated.
Was our Top 5 Reasons for Traveling to Philippines helpful to you?
Let us know your thoughts in the comments below..
And if you are looking for a specific piece of information, please do comment below..