Our 10 Best Places to Visit in Florence:
Florence, Italy: Exploring the Renaissance Charm
Nestled in the heart of Tuscany, Florence stands as a timeless testament to the splendor of the Italian Renaissance. With its breathtaking architecture, world-class art, and romantic ambiance, this enchanting city is a traveler's dream come true. Join us as we explore the best places to visit in Florence, where history, culture, and beauty blend harmoniously.
Our 10 Best Places to Visit in Florence
1. The Florence Cathedral (Duomo)
Our journey begins with the crown jewel of Florence, the Florence Cathedral, also known as the Duomo. This awe-inspiring masterpiece showcases a stunning blend of Gothic and Renaissance architecture. The iconic dome, designed by Brunelleschi, offers panoramic views of the city, a reward for those who climb its 463 steps. Admire the intricate façade, adorned with white, pink, and green marble, and step inside to be captivated by the grandeur of the interior, featuring breathtaking frescoes and sculptures.
2. Uffizi Gallery
Art enthusiasts rejoice! The Uffizi Gallery is a treasure trove of artistic masterpieces, housing an extensive collection that spans centuries. From Botticelli's "The Birth of Venus" to da Vinci's "Annunciation," the gallery's rooms are a visual feast for any culture lover. Be sure to allocate ample time for this visit, as each painting, sculpture, and artifact holds a story waiting to be discovered.
3. Ponte Vecchio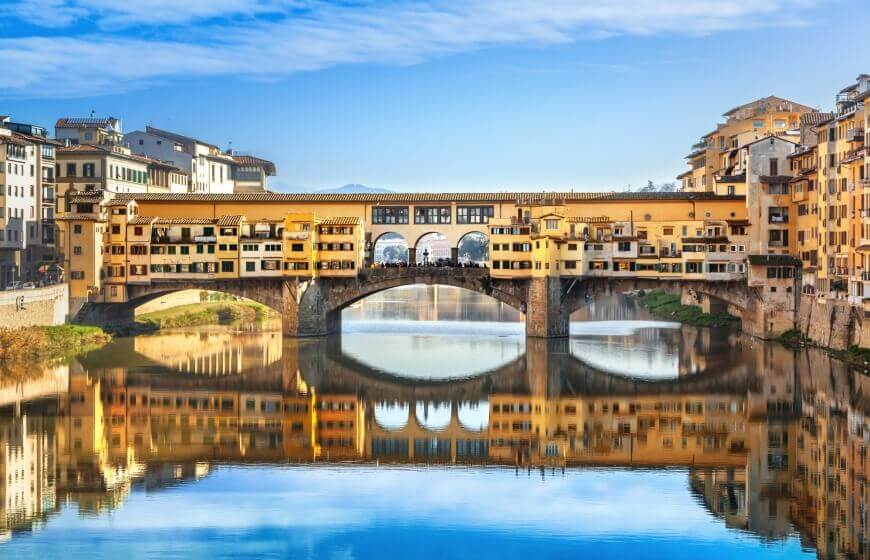 As we meander through Florence's charming streets, we stumble upon the iconic Ponte Vecchio, a bridge that has stood the test of time since the 14th century. The bridge is lined with jewelry shops and art boutiques, providing a romantic and picturesque setting. Catch a mesmerizing sunset while strolling across this architectural wonder, and feel the vibrant energy of the Arno River beneath you.
4. Pitti Palace and Boboli Gardens
A short walk from Ponte Vecchio brings us to the magnificent Pitti Palace. Once the residence of the powerful Medici family, this opulent palace now houses several museums. Explore the Palatine Gallery, showcasing a lavish collection of Renaissance art, and then head to the enchanting Boboli Gardens.
These sprawling gardens feature stunning sculptures, charming fountains, and perfectly manicured greenery, offering a peaceful oasis amidst the city's hustle and bustle, where you can take leisurely walks among lush gardens, fountains, and sculptures. The views of Florence from different vantage points within the gardens are truly mesmerising.
5. Basilica of Santa Croce
Venturing further, we arrive at the Basilica of Santa Croce, an important religious and historical landmark. This Franciscan church is the final resting place of illustrious figures like Michelangelo, Galileo, and Machiavelli. Inside, awe-inspiring frescoes adorn the walls, while outside, the grand façade is a sight to behold. Take a moment to reflect in the serene courtyard before continuing your exploration.
6. Piazzale Michelangelo:
A trip to Florence wouldn't be complete without visiting Piazzale Michelangelo. This panoramic terrace offers unrivaled views of the city's skyline, with the Duomo, Ponte Vecchio, and surrounding hills coming into sight. Whether at sunrise or sunset, the vista from here is an unforgettable experience and the perfect place to capture memories with your camera.
7. Stroll Through Piazza della Signoria
Piazza della Signoria is Florence's beating heart and a hub of social activity. Take a leisurely stroll through this square, surrounded by striking statues, including a replica of Michelangelo's David. Admire the Palazzo Vecchio, Florence's town hall, which stands proudly as a testament to the city's political history. It's interior is stunning.
The square's vibrant atmosphere, lined with charming cafes and boutiques, invites you to savor the Italian way of life.
8. Embrace Art at Galleria dell'Accademia
Art lovers rejoice! The Galleria dell'Accademia houses another masterpiece that is an absolute highlight of your Florence visit – Michelangelo's David. The 17-foot tall marble sculpture is a true marvel and a symbol of Renaissance artistry. While the statue is undoubtedly the main attraction, the gallery also features an impressive collection of Renaissance paintings and sculptures.
9. Cascate Del Mulino: (hot springs)
Cascate del Mulino, located near Saturnia in Tuscany, Italy, is a natural wonder that captivates visitors with its stunning beauty and therapeutic qualities. This enchanting waterfall is formed by the thermal springs of Saturnia, which have been flowing for centuries, creating cascading pools of warm, mineral-rich water. The ethereal setting, surrounded by lush greenery, invites travelers to relax and soak in the soothing waters while enjoying the picturesque scenery. Cascate del Mulino offers a unique and rejuvenating experience, making it a hidden gem for those seeking tranquility amidst nature's wonders.
10. The Restauarants – Indulge in Tuscan Cuisine: EAT!
No visit to Florence is complete without savoring the delectable Tuscan cuisine. Treat yourself to mouthwatering dishes like ribollita, pappa al pomodoro, and bistecca alla fiorentina, paired with a glass of Chianti wine. Delight in gelato from local gelaterias and indulge in the sweet flavors of Italy.
FAQ – Best Places to Visit in Florence
1. What are the must-visit attractions in Florence?
Florence boasts a plethora of iconic attractions. Don't miss the Florence Cathedral (Duomo), Uffizi Gallery, Accademia Gallery (home to Michelangelo's David), Ponte Vecchio, and Palazzo Vecchio.
2. Are there any hidden gems to explore in Florence?
Absolutely! While in Florence, consider visiting San Miniato al Monte for breathtaking views, and the Oltrarno district for its artisan workshops and charming ambiance.
3. What's the best time to visit Florence?
Spring (April to June) and fall (September to October) offer pleasant weather and fewer crowds. However, Florence's mild winters make it ideal for off-season travelers as well.
4. How can I explore the city on a budget?
Many of Florence's attractions, like Piazza della Signoria and Santa Maria Novella, are free to visit. Purchase a Firenze Card for discounted entry to major museums and use the city's extensive network of buses for affordable transportation.
5. Where can I try authentic Florentine cuisine?
Head to Mercato Centrale for local delicacies, and explore the Oltrarno district for trattorias serving traditional dishes like Florentine steak and ribollita.
6. Are there any day trips I can take from Florence?
Absolutely! Consider day trips to Siena, Pisa (to see the Leaning Tower), and the enchanting Tuscan countryside for wine tasting.
7. Is it necessary to pre-book tickets for popular attractions?
During peak tourist seasons, it's recommended to book tickets in advance, especially for the Uffizi Gallery and Accademia to avoid long queues.
8. What's the best way to get around the city?
Florence is quite walkable, so exploring on foot is enjoyable. However, you can also use public buses or rent bicycles for convenient transportation.
9. Which neighborhoods are best for accommodation?
The historic center, Santa Croce, and Santo Spirito are popular neighborhoods with a wide range of accommodations to suit different budgets and preferences.
10. How many days do I need to explore Florence adequately?
To experience the highlights, plan for at least 3 to 4 days in Florence. However, art enthusiasts and history buffs might want to stay longer to immerse themselves fully in the city's rich cultural offerings.
The Best Places to Visit in Florence – Conclusion:
Florence is a treasure trove of art, history, and romance, offering an unforgettable experience for every traveler. The city's rich heritage, breathtaking architecture, and mouthwatering cuisine make it one of the best places to visit in Italy and the world. So pack your bags, immerse yourself in Renaissance charm, and let Florence leave an indelible mark on your soul. Buon viaggio! (Safe travels!)
Exploring Italy's Treasures: The Best Places to Visit in Italy in 2023
Our Best Free Places to Visit in New York That are yes, Absolutely FREE!
Our Best 10 Affordable Vacation Destinations if you are on a tight budget.
Our 10 Best Budget Travel Tips: Explore the World Without Draining Your Bank Account.
These are our Top 10 Best Travel Destinations Worldwide 2023
Our Absolute Best list of 10 Less Touristy Places to Travel in Europe 2023
Australia: A Traveler's Paradise: Best Australian Destinations 2023
The Best Places to Visit in Florence – By David John
The Best Places to Visit in Florence Cover Image: wiki
The Best Places to Visit in Florence flickr images licensed under CC BY 2.0
Additional images: adobe, colourbox, istock, pexels, shutterstock, unsplash unless otherwise stated.
Was our 'The Best Places to Visit in Florence' info helpful to you?
Let us know your thoughts in the comments below..
And if you are looking for a specific piece of information, please do comment below..