A Spectacular Arrival to La Paz:
My Arrival to La Paz, Bolivia: Embracing the Enchanting Chaos
If you asked me to name my favourite approach to a city then I would go all coy for a few seconds before blurting out how utterly amazing it is to arrive to La Paz in Bolivia.
Welcome to the bustling heart of Bolivia – La Paz! Nestled in the Andes Mountains, this vibrant city offers a unique blend of culture, history, and stunning landscapes. Join me as we embark on an adventure, exploring the enchanting chaos and captivating beauty of our arrival to La Paz.
The Thrilling Arrival to La Paz:
When we first got to La Paz many years ago it was by bus and it was amazing. The next time we arrived by plane and it was even better. In both cases, you get treated to an astonishing sight, as the city suddenly appears in a giant bowl in front of you. It is one of the few cities that literally took my breath away when I first saw it.
As our plane descends through the clouds, we catch our first glimpse of La Paz's sprawling metropolis. The city seems to cascade down the mountains, its colorful buildings perched on steep slopes. Excitement courses through us as we prepare to explore this fascinating destination.
It is even more spectacular at night time, when the whole bowl it sits in it filled with multi-coloured lights. We have now been here about 5 or 6 times and the arrival surprises and delights me every single time. This definitely one of the most exciting places to visit in Bolivia or elsewhere.
The El Alto Airport Experience:
Touching down at the El Alto International Airport, one of the highest airports in the world, we are welcomed by the breathtaking vistas of the Andean peaks. The altitude takes some getting used to, but the thrill of being in this unique setting fuels our eagerness to begin our La Paz adventure.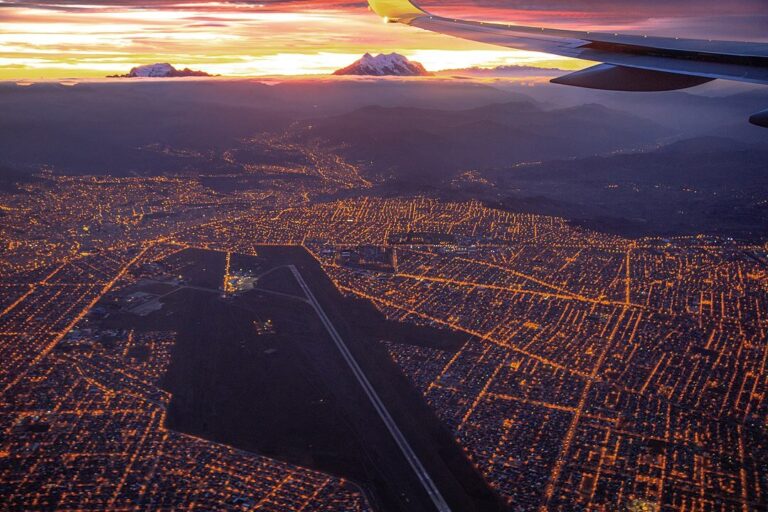 Immersing in Cultural Richness:
In the heart of La Paz, we wander through the bustling streets, where the old and new coexist harmoniously. We visit the vibrant Witches' Market, where traditional herbal remedies and mystical artifacts entice our curiosity. The sounds of street musicians and the lively chatter of locals add to the city's dynamic atmosphere.
The secret to getting around La Paz is in knowing that the main thoroughfare is at the bottom of the giant bowl it sits in. This is called El Prado and is where you will find some of the best restaurants, shops and things to do in Bolivia. If you ever get lost then just head downhill and you will end up here.
Exploring Historic Landmarks:
La Paz offers a treasure trove of historical landmarks. The stunning San Francisco Church, with its ornate facade, transports us to the colonial era. The Presidential Palace and Plaza Murillo, pulsing with political energy, offer insight into Bolivia's governance.
Chaos and Colours Everywhere:
La Paz is probably the best city we have ever been to for walking around in. The streets are just filled to bursting with colourful chaos, street vendors, tourists and all sorts of other stuff. For example, if you hang around the gringo area on Calle Sagarnaga you will find a big concentration of shops selling ponchos, Andean statues and all sorts of wacky trinkets. There is even a guy that sidles up to me every single time I go there and he tries to sell me (presumably fake) fossils.
The prices are fantastic here, so be sure to get to La Paz with some space in your luggage to cram in some bargain clothes and ornaments from your Bolivia tourism shopping spree.
The Unforgettable Cable Car Ride:
One of the highlights of our visit is the cable car ride. As we soar above the city, we're treated to sweeping panoramas of La Paz and the surrounding mountains. The cable car network not only eases the city's traffic but also provides an unforgettable way to appreciate its grandeur.
The Witches Market:
The highlight for many tourists is the Witches Market, which is as utterly cool as it sounds. This is where you need to go to ward off evil spirits and to top up your dried llama foetus collection. A word of warning; the old women here don't like you taking photos of them and their merchandise. Bitter experience tells me that they are also wise to the old 'just taking a picture of the sky. Oh look, my hand slipped' ploy. If you want some cracking pictures wait until you are about to buy something and ask politely.
Places to Visit in Bolivia from La Paz:
This is the also the starting point for a trip to the world's most dangerous road, which is one of the top things to do in Bolivia. You can cycle down this crazily dangerous road with a tour group. The name isn't just a cheap marketing gimmick; just look at the white crosses at the side of the road to see how dangerous it is.
This road takes you to the Yungas region and the recent opening of a brand new road means that this one is no longer so congested. However, it does still have some of the most incredible sheer drops you will ever see.
See our post on Death Road Bolivia Will Get Your Adrenalin Pumping
The altitude drops drastically on the ride down, so you will want to make sure that your hired bike has working brakes on it. A bus will take you back to La Paz later on in the day. You can also set out from here to visit Lake Titicaca and the Uyuni Salt Flats.
Nature's Majesty at Valle de la Luna:
A short journey from La Paz leads us to the otherworldly Valle de la Luna (Moon Valley). The eroded landscape, resembling a lunar surface, is a testament to the marvels of nature. We hike through the maze of canyons, feeling as if we're exploring an alien world.
Food – Sampling Bolivian Delights:
No trip to La Paz is complete without savoring its culinary delights. We indulge in hearty Bolivian dishes, such as salteñas and traditional soups. The flavors of Bolivian cuisine provide a glimpse into the country's rich cultural heritage.
La Paz is a great place to eat some good food at low prices, to join the crowds watching DVDs and drinking milkshakes on the street and to generally feel as though you are very far from home. There are always loads of backpackers here so if you want some company then just head over to the cafes or hotels in the area around the Witches Market.
Arriving in La Paz is like stepping into a world of enchanting chaos. From its lively streets and historic landmarks to its stunning cable car rides and surreal landscapes, La Paz is a city that captivates the soul. Our journey has just begun, and we eagerly anticipate uncovering more of the wonders that La Paz has to offer.
Conquering the Legendary Death Road Bolivia
Exploring the Vibrant Charms of La Paz, Bolivia – even more details on visiting La Paz
Cerro de Potosi Will Blow Your Mind
---
Our Best Free Places to Visit in New York That are Absolutely FREE!
Our Best 10 Affordable Vacation Destinations if you are on a tight budget.
Our 10 Best Budget Travel Tips: Explore the World Without Draining Your Bank Account.
These are our Top 10 Best Travel Destinations Worldwide 2023
Our Absolute Best list of 10 Less Touristy Places to Travel in Europe 2023
Australia: A Traveler's Paradise: Best Australian Destinations 2023
Arrival to La Paz: by Robert Bell
Our Arrival to La Paz Cover Image: kt
Additional images: adobe, colourbox, istock, pexels, shutterstock, unsplash unless otherwise stated.
This concludes our Arrival to La Paz. We hope you find this information useful. If you are looking for a specific piece of information, or you've got a travel suggestion, please do comment below.
Was our 'Arrival to La Paz' helpful to you?
Let us know your thoughts in the comments below.