Our Top 10 Best Things to Do in Ireland:
Exploring the Emerald Isle: 10 Unforgettable Things to Do in Ireland:
Ireland, the enchanting Emerald Isle, beckons travelers with its rich history, breathtaking landscapes, and warm hospitality. From ancient castles to vibrant cities, Ireland offers an array of captivating experiences for every kind of adventurer. Let's embark on a journey to discover the top 10 unmissable things to do in Ireland, ensuring an unforgettable exploration of this charming and diverse country.
1. Discover Dublin's Charms:
Kickstart your Irish adventure in Dublin, the vibrant capital city that effortlessly blends tradition with modernity. Explore the iconic Trinity College and marvel at the Book of Kells, a beautifully illuminated manuscript. Stroll along the cobblestone streets of Temple Bar, lined with quirky pubs, art galleries, and boutiques. Don't miss a visit to the Guinness Storehouse for a taste of Ireland's famous stout.
2. Admire the Cliffs of Moher:
Witness nature's grandeur at the Cliffs of Moher, one of Ireland's most breathtaking natural wonders. These majestic cliffs soar dramatically over the Atlantic Ocean, offering awe-inspiring views and picturesque hiking trails.
When visiting the Cliffs of Moher, make sure to visit, or stay in Doolin.
3. Journey Along the Ring of Kerry:
Embark on a scenic drive along the Ring of Kerry, a 179-kilometer circular route that weaves through some of Ireland's most stunning landscapes. From rugged mountains to serene lakes and charming villages, this route encapsulates the essence of Ireland's beauty.
4. Unravel History at Blarney Castle:
Visit Blarney Castle in County Cork and take a moment to kiss the famous Blarney Stone, said to bestow the gift of eloquence. Explore the castle's beautiful gardens and immerse yourself in tales of ancient Irish history.
Blarney Castle Ireland Will Grant You the Gift of Eloquence
5. Experience Traditional Irish Music in Galway:
Head to Galway, a city brimming with creativity and bohemian charm. Wander through colorful streets, enjoy live music in traditional pubs, and soak in the lively atmosphere of the cultural heart of Ireland.
6. Step into History at the Rock of Cashel:
Explore the Rock of Cashel, an ancient fortress that stands atop a limestone outcrop in County Tipperary. This iconic site boasts a fascinating collection of medieval buildings, including the majestic St. Patrick's Cathedral.
7. Explore the Giant's Causeway: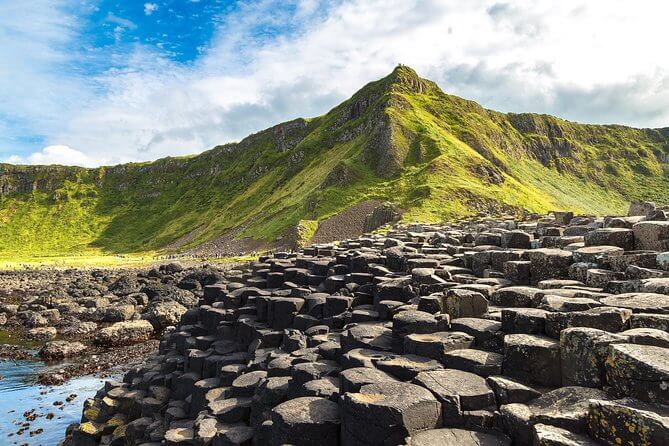 Venture to Northern Ireland to witness the wonder of the Giant's Causeway, a UNESCO World Heritage site. Marvel at the 40,000 interlocking basalt columns, said to be the result of an ancient volcanic eruption.
8. Visit the Dingle Peninsula:
Discover the rugged beauty of the Dingle Peninsula, where lush green landscapes meet the crashing waves of the Atlantic. Explore quaint fishing villages, enjoy fresh seafood, and take in the panoramic views.
9. Wander Through Glendalough:
Escape to the peaceful beauty of Glendalough, an enchanting valley in County Wicklow. Explore the ancient monastic site, walk along tranquil lakes, and immerse yourself in the serenity of nature.
10. Experience Irish Folklore at Bunratty Castle:
Step back in time at Bunratty Castle and Folk Park, a living museum that transports you to Ireland's medieval past. Enjoy traditional feasts, lively music, and interactive experiences that bring history to life.
Frequently Asked Questions (FAQ) – Best Things to Do in Ireland:
1. What are the top things to do in Ireland?
Ireland offers a diverse range of activities. Some top things to do include exploring Dublin's historic sites, admiring the Cliffs of Moher, driving along the Ring of Kerry, kissing the Blarney Stone, experiencing traditional music in Galway, visiting ancient castles like the Rock of Cashel, and witnessing the wonders of the Giant's Causeway.
2. What are the must-visit cities in Ireland?
Dublin, Galway, Cork, Belfast, and Killarney are among the must-visit cities in Ireland, each offering its unique attractions, culture, and charm.
3. How can I experience Irish culture and traditions?
To experience Irish culture, visit traditional pubs with live music, attend local festivals and events, explore ancient castles and monastic sites, and interact with the friendly locals.
4. Are there scenic drives in Ireland worth exploring?
Yes, Ireland boasts several scenic drives, such as the Ring of Kerry, Wild Atlantic Way, Causeway Coastal Route, and Dingle Peninsula, which offer breathtaking landscapes and picturesque vistas.
5. What are some outdoor activities in Ireland?
Ireland offers various outdoor activities like hiking in national parks, surfing on the Atlantic coast, cycling through scenic routes, and exploring islands off the coastline.
6. Are there historical sites to visit in Ireland?
Yes, Ireland is rich in history, and you can explore ancient castles, monastic ruins, historical towns, and heritage sites like Glendalough and Newgrange.
7. How can I experience traditional Irish cuisine?
To savor traditional Irish cuisine, visit local pubs and restaurants that offer dishes like Irish stew, seafood chowder, soda bread, and indulgent desserts like Baileys cheesecake.
8. Can I explore Northern Ireland from Ireland?
Yes, Northern Ireland is part of the United Kingdom, and you can easily explore it from Ireland, visit attractions like the Giant's Causeway, Belfast's Titanic Quarter, and the Dark Hedges.
9. What are some family-friendly activities in Ireland?
Families can enjoy exploring interactive museums like EPIC The Irish Emigration Museum, visiting Dublin Zoo, exploring Bunratty Castle and Folk Park, and enjoying outdoor adventures in national parks.
10. Is Ireland safe for travelers?
Ireland is generally considered safe for travelers. It has a low crime rate and is welcoming to tourists. However, as with any travel destination, it's essential to take standard safety precautions.
11. Are there guided tours available for exploring Ireland?
Yes, there are numerous guided tours available, offering various itineraries, including city tours, scenic drives, cultural experiences, and outdoor adventures.
12. Can I explore Ireland on a budget?
Yes, Ireland offers budget-friendly options, such as free walking tours, affordable accommodations, and self-catering options. Additionally, exploring natural attractions and public parks can be cost-effective.
13. What is the best time to visit Ireland?
The best time to visit Ireland is during the shoulder seasons of spring (April to May) and fall (September to October) when the weather is pleasant, and there are fewer crowds.
14. Are there island adventures to enjoy in Ireland?
Yes, Ireland has numerous islands to explore, such as the Aran Islands, Skellig Islands, and Achill Island, each offering unique landscapes and cultural experiences.
15. Can I experience traditional Irish crafts and arts?
Yes, you can experience traditional Irish crafts like pottery, weaving, and jewelry-making at local workshops and craft centers throughout the country.
Ireland's vibrant culture, stunning landscapes, and rich history offer a diverse array of experiences for travelers. Whether you're exploring ancient castles, savoring traditional cuisine, immersing yourself in Irish traditions, or embarking on outdoor adventures, Ireland promises an unforgettable journey of exploration and discovery.
Best Things to Do in Ireland: Final Thoughts
Ireland, with its captivating landscapes, rich history, and vibrant culture, offers an unforgettable journey of discovery. From the bustling streets of Dublin to the untamed beauty of the countryside, every corner of this emerald gem beckons travelers to create cherished memories. Whether you're exploring ancient castles, savoring traditional cuisine, or immersing yourself in lively Irish traditions, the experiences in Ireland are sure to leave a lasting impression on your heart. Embark on this unforgettable adventure and let the charm of the Emerald Isle embrace you.
Dunluce Castle Ireland History: Unveiling the Fascinating History of Dunluce Castle in Ireland
Our Best Free Places to Visit in New York That are Absolutely FREE!
Our Best 10 Affordable Vacation Destinations if you are on a tight budget.
Our 10 Best Budget Travel Tips: Explore the World Without Draining Your Bank Account.
These are our Top 10 Best Travel Destinations Worldwide 2023
Our Absolute Best list of 10 Less Touristy Places to Travel in Europe 2023
Australia: A Traveler's Paradise: Best Australian Destinations 2023
Our 10 Best Things to Do in Ireland – By Robert Bell
10 Best Things to Do in Ireland Cover Image: tu
Best Things to Do in Ireland flickr images licensed under CC BY 2.0
Additional images: adobe, colourbox, istock, pexels, shutterstock, unsplash unless otherwise stated.
Were our 10 Best things to do in Ireland helpful to you?
Let us know your thoughts in the comments below..
And if you are looking for a specific piece of information, please do comment below..