The Island of Iona: A Truly Spiritual Experience
Discovering Tranquility: The Enchanting Island of Iona
If there is one thing even better than exploring the world it is discovering magical places in your own country. Despite having grown up in Scotland I knew nothing of the magical island of Iona until I set foot on it and quickly fell in love with its mystical beauty.
Escape to the serene beauty of the Island of Iona, a hidden gem nestled off the western coast of Scotland. Steeped in history, spirituality, and breathtaking landscapes, Iona offers a sanctuary of tranquility for travelers seeking solace and connection with nature. Join me as we embark on a virtual journey to explore the charms of this enchanting island.
1. A Spiritual Haven:
The Island of Iona is a tiny strip of land off the west coast of Scotland. Despite its insignificant size it played a big part in the history of Scotland. First of all, the Irish monk Columba set up a monastery here in the 6th century, which would be the religious centre of the region for centuries. It is also claimed that many ancient Scottish, Irish and Viking kings are buried here.
Known as the "Cradle of Christianity," Iona has been a spiritual center for centuries. Visit the historic Iona Abbey, an ancient monastic site that exudes a sense of peace and contemplation. Wander through its hallowed halls, admire intricate Celtic crosses, and immerse yourself in the ethereal atmosphere that continues to draw pilgrims from around the world.
2. Pristine Beaches and Turquoise Waters:
Iona boasts pristine white sandy beaches and crystal-clear turquoise waters that rival tropical paradises. Stroll along the shores of the famous Iona Beach, where the gentle waves caress the sand, creating a sense of serenity. Take a moment to breathe in the invigorating sea breeze and appreciate the unspoiled beauty that surrounds you.
3. Island Explorations:
Venture beyond the shores to explore the island's picturesque landscapes. Walk along peaceful trails that lead you through rolling green hills, past ancient ruins, and to dramatic cliffside viewpoints. Be mesmerized by the rugged coastline, where waves crash against rocky outcrops, creating a symphony of natural beauty.
4. Wildlife Encounters:
Iona is home to a diverse array of wildlife, making it a haven for nature enthusiasts. Keep an eye out for soaring seabirds, playful seals basking on the rocks, and perhaps even catch a glimpse of dolphins or whales gracefully navigating the surrounding waters. Nature lovers will find solace in the harmonious coexistence of wildlife and humans on this island sanctuary.
5. Community and Artistic Heritage:
Despite its small size, Iona boasts a vibrant community of artists, artisans, and musicians. Explore local galleries and studios to admire unique works of art inspired by the island's beauty. Immerse yourself in the lively atmosphere of a traditional Scottish ceilidh, where locals gather to share traditional music, dance, and storytelling.
To get here you need to take a ferry from the sleepy coastal town of Oban to the sleepier island of Mull. A quick bus trip to the other side of the island and you can hop on a short ferry trip to the positively laid back isle of Iona. Just before getting on this second ferry I can recommend the tiny second hand book shop someone has opened in their garage in this village. I picked up a copy of The Thirty Nine Steps which, for some reason, became the perfect companion on the island and is now inextricably linked to Iona in my head.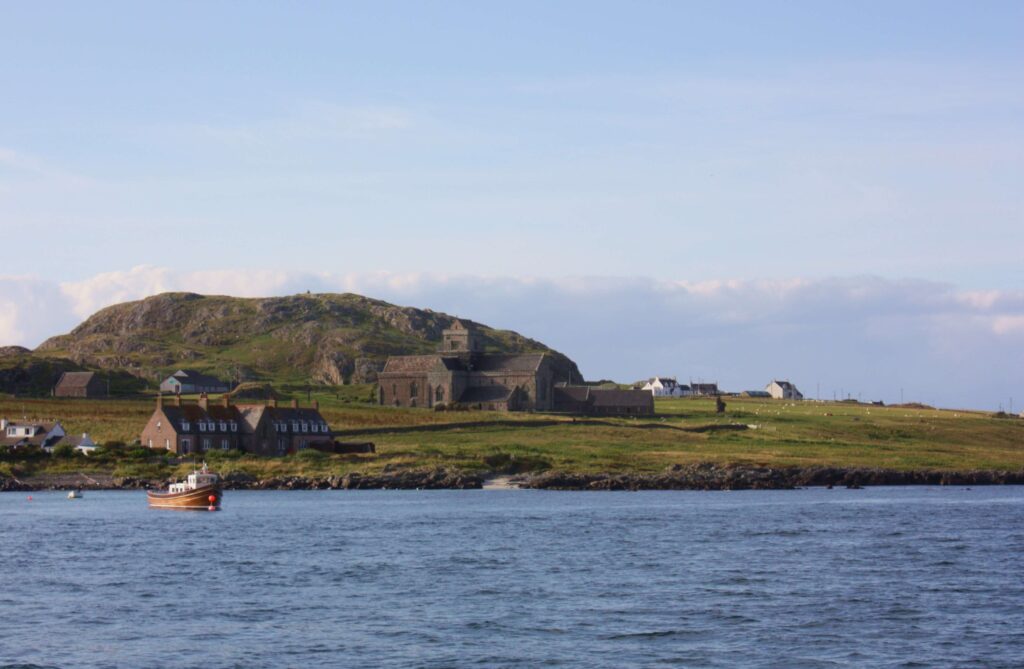 On your way here it is recommended to spend a day or two in Oban. It is a cool little town with the most bizarre Roman style folly perched on top of it (see above picture). I decided to try a whisky in a small pub here and buy some tartan souvenirs, almost completely forgetting by this point that I had lived all of my life in this country to date. I was starting to feel like a tourist in my own country and I was loving that there are so many things to do in Oban.
You can see the glorious isle of Iona right in front of you as soon as you head here on the second ferry. It is only 1 mile (2 km) by 4 miles (6 km) and counts with a population of just over 100 but it has a cultural legacy far greater than that. You may have once seen the beautiful Book of Kells, currently held in Trinity College in Dublin. This is a fantastic example of the fine religious art carried out here.
As well as the ancient royals buried here, the late Labour leader John Smith also found his resting place on Iona. The graveyard is filled with Celtic crosses that have stood here for centuries and make it feel like a mystical, legendary place.
The Island of Iona – Includes joining the Sheep on the Beach
It is a fascinating island with a lovely Abbey, deserted beaches and a peaceful, spiritual feel. Lots of pilgrims make the trip to Iona each year but when I went the only other visitors were a few Irish and Australian backpackers. Together we joined some sheep for a stroll along a beach and climbed the island's highest point, which is a punishing 101 metres (331 ft) above sea level.
There aren't a lot of places to stay and eat here, so booking a room in advance is a good move. Once you get here you will find that it is a completely different type of travel destination from most of the popular places on earth for travellers to see.
The Island of Iona beckons with its tranquil beauty, rich history, and captivating spirituality.
Whether you seek solace in the ancient monastic ruins, connect with nature along its pristine beaches, or immerse yourself in the vibrant community, Iona offers a sanctuary for the soul.
This isn't an action-packed destination where you will rush around to tick world famous sights off your to-do list. Instead, you will find that it is a spiritual, relaxed place to pass a couple of days and forget about the modern world for a while. Doesn't that make it sound like the kind of place you would love to explore one day?
Would you like to find Cheap Business Class Flights? – Here are 5 things you can do
These are our Top 10 Best Travel Destinations Worldwide 2023
California Dreaming: Best Places to Visit in California
Our Best 10 Affordable Vacation Destinations if you are on a tight budget
Check out our 5 top beaches in the Philippines
Our Absolute Best Free Places to Visit in New York That are FREE!
Exploring the Wonders of Australia – A Traveler's Paradise – 7 of Our All Time Favourites
Backpacking in Australia – An Absolute Must for the Young and Carefree
Our Top 5 Things to do in Majorca Away From the Sand
The Island of Iona – By Robert Bell
This concludes our article on the Island of Iona. We hope you find this information useful. If you are looking for a specific piece of information, please do comment below as we may have just forgotten to mention it.
The Island of Iona Cover Image: Country Living
Additional images: istock, adobe and shutterstock unless otherwise stated.
Was our 'Island of Iona' info helpful to you?
Let us know your thoughts in the comments below..