Top 13 Best Things to Do in Hawaii:
Aloha Paradise: Our Guide to an Unforgettable Vacation
Aloha to the tropical paradise of Hawaii! With its pristine beaches, lush landscapes, and vibrant culture, Hawaii is a dream destination for travelers seeking a slice of paradise. From the majestic volcanoes to the turquoise waters teeming with marine life, this archipelago offers an array of unforgettable experiences. In this travel blog, we'll explore the best things to do in Hawaii, allowing you to make the most of your Hawaiian adventure.
After the recent events and tragedies in Lahaina Maui, the people and businesses of Hawaii need our love, support and travel $$$ more than ever before. Go show your support if you can..
The Main Islands of Hawaii
Oahu, known as "The Gathering Place," remains a top favorite among Hawaiian Islands, boasting a vibrant mix of tourists and full-time residents. Its renowned attractions like Waikiki, the stunning North Shore beaches, and historic Pearl Harbor make it a must-visit destination.
The Island of Hawaii, often referred to as "The Big Island," stands as the largest in the archipelago. Beyond its grandeur, it brims with Hawaiian cultural significance, featuring three active volcanoes, picturesque waterfalls, alluring black sand beaches, and thriving coffee farms.
Maui, also called "The Valley Isle," captures hearts with its breathtaking mountain-to-ocean landscapes. A paradise for snorkeling, whale watching, golfing, and water sports, Maui lures visitors time and again to explore its wonders.
Within Maui County, hidden gems lie on Lana'i (The Pineapple Isle) and Moloka'i (The Friendly Isle). These intimate islands offer unique experiences, such as golfing, horseback riding, sport fishing, and uncovering rare discoveries.
Lastly, Kaua'i (The Garden Isle) entices visitors with its vibrant and diverse cultural environment. The opportunity to hike the remarkable Na Pali Coastline, explore Waimea Canyon, witness ancient taro fields, and immerse in Hawaiian history in Old Koloa Town and Hanapepe make Kaua'i a captivating destination to fall in love with.
According to official recognition by the state of Hawaii, there are 137 islands, including the four islands of the Midway Atoll. The term "island" in this context extends to encompass smaller, uninhabited islets, rocks, coral reefs, and atolls. These diverse landforms contribute to the unique geographical makeup of the Hawaiian archipelago.
Our Top 13 Best Things to Do in Hawaii
1. Surfing in Oahu:
Hawaii is synonymous with surfing, and Oahu's North Shore is a surfer's mecca. Catch thrilling waves at famous spots like Waimea Bay, Pipeline, and Sunset Beach, or take surfing lessons to ride the waves for the first time. Whether you're a seasoned pro or a beginner, the adrenaline rush of catching a wave is an experience like no other. Surfing is definitely one of the best things to do in Hawaii.
2. Soaking in the Beauty of Maui's Road to Hana:
Embark on a breathtaking journey along the Road to Hana on Maui's eastern coast. Wind your way through lush rainforests, encounter stunning waterfalls like Wailua Falls and Ohe'o Gulch (Seven Sacred Pools), and stop at picturesque beaches with crystal-clear waters. This scenic drive is one of the best things to do in Hawaii, an adventure that leads to the heart of Hawaii's natural wonders.
3. Snorkeling or Scuba Diving Molokini Crater:
Dive into the pristine waters surrounding Molokini Crater, a partially submerged volcanic crater off the coast of Maui. This underwater sanctuary is teeming with colorful marine life, making it a snorkeler's paradise. Glide alongside sea turtles, spot vibrant corals, and marvel at the kaleidoscope of tropical fish that call this marine reserve home.
Hawaii is a true paradise for underwater enthusiasts, boasting clear waters and abundant marine life. From Hanauma Bay to Kealakekua Bay, the islands offer countless spots for snorkeling and scuba diving.
Join boat tours to witness dolphins, turtles, and whales in their natural habitat. Whether you're a beginner or an experienced diver, Hawaii's coastal playgrounds cater to all. Snorkelers can revel in the shallow reefs, while scuba divers can explore hidden treasures in deeper waters.
Prepare for unforgettable encounters with the captivating marine world, immersing yourself in the Pacific Ocean's rich biodiversity. Experience one of the best things to do in Hawaii with the magic of snorkeling and scuba diving amidst Hawaii's tropical beauty.
4. Exploring the Volcanoes National Park:
Experience the raw power of nature at the Volcanoes National Park on the Big Island. Witness the mesmerizing glow of Kilauea, one of the world's most active volcanoes, and walk through lava tubes formed by ancient eruptions. This mystical landscape showcases the ever-changing face of the Earth.
5. Sunset at Haleakalā Summit:
Climb to the summit of Haleakalā on Maui before dawn to witness an ethereal sunrise. As the sun peeks over the horizon, the vast volcanic crater is bathed in hues of orange and pink, creating a surreal celestial experience. Stay after sunset to stargaze in one of the best locations for astronomy in the world.
6. Cultural Experience in Honolulu:
Immerse yourself in Hawaii's rich cultural heritage at the Polynesian Cultural Center in Honolulu. Discover the traditions, dance, and music of different Pacific Island nations through interactive exhibits and captivating performances. It's a fascinating journey through the diversity of Polynesia.
7. Relaxing on Waikiki Beach:
No visit to Hawaii is complete without spending time on the world-famous Waikiki Beach in Honolulu. Sink your toes into the soft sand, catch a wave on a surfboard, or simply bask in the sun while gazing at the iconic Diamond Head crater. The beach's lively atmosphere and stunning vistas epitomize the spirit of Hawaii.
8. Go Hiking:
Hawaii is home to many scenic hiking trails that offer panoramic views of the ocean and mountains, so hiking is another one of the best things to do in Hawaii. One of the most popular hikes is the Diamond Head Trail, which takes you to the top of a volcanic cone and offers stunning views of Waikiki and the Pacific Ocean. The Kalalau Trail in Kauai is another popular option that takes you through lush forests and along the coastline.
9. Explore the National Parks:
Hawaii has two national parks that are worth exploring – Haleakala National Park on Maui and Hawaii Volcanoes National Park on the Big Island. Haleakala National Park is famous for its stunning sunrises, while Hawaii Volcanoes National Park allows you to witness the power of nature as you watch active volcanoes.
10. Attend a Luau:
A luau is a traditional Hawaiian feast that includes music, hula dancing, and fire-knife performances. It is a fun and interactive way to learn about Hawaiian culture and history and another one of the best things to do in Hawaii. Some of the best luaus in Hawaii can be found on Oahu, Maui, and Kauai.
11. Go Skydiving:
Skydiving is yet another one of the best things to do in Hawaii. Take a leap of faith and experience the thrill of skydiving in Hawaii! Plunge from the skies above the breathtaking landscapes of the Hawaiian islands, witnessing the mesmerizing beauty from a whole new perspective. Feel the rush of adrenaline as you freefall before gliding gently under the parachute, offering breathtaking vistas of turquoise waters, lush greenery, and majestic volcanic peaks. With professional instructors guiding your every move, skydiving in Hawaii promises an unforgettable adventure and a bird's-eye view of paradise. Embrace the exhilaration of this once-in-a-lifetime experience and create memories that will stay etched in your heart forever.
12. Stargazing on Mauna Kea:
One of the most mesmerizing experiences in Hawaii is stargazing on Mauna Kea, the highest peak in the state. With its exceptional altitude and minimal light pollution, Mauna Kea offers an unparalleled view of the night sky. Join a stargazing tour or drive to the summit to witness a celestial spectacle like no other. Professional astronomers and guides will introduce you to the wonders of the universe, pointing out constellations, planets, and even distant galaxies through high-powered telescopes.
Be captivated by the brilliance of stars against the dark canvas of the sky and immerse yourself in the profound beauty of the cosmos above Hawaii's sacred volcanic landscape. Stargazing on Mauna Kea is an experience that will leave you with a profound sense of wonder and appreciation for the universe we inhabit.
13. Taste the Local Cuisine: EAT!
Hawaiian cuisine is a unique blend of flavors from different cultures, including Polynesian, Japanese, and Chinese. Some of the must-try dishes include poke (raw fish salad), kalua pork (slow-cooked pork), and shave ice (a refreshing dessert made from shaved ice and flavored syrups). You can find these dishes at local restaurants, food trucks, and markets.
Honorable Mentions: More Best Things to Do in Hawaii
There's quite a few other activities worth a mention including:
FAQ – Best Things to Do in Hawaii
1. What are the top attractions in Hawaii that one must not miss?
Hawaii offers a plethora of must-do activities. Don't miss surfing on Oahu's North Shore, exploring the Volcanoes National Park on the Big Island, snorkeling at Molokini Crater, and experiencing the sunrise at Haleakalā on Maui.
2. What are some of the best beaches in Hawaii?
Hawaii boasts numerous stunning beaches. Some of the best include Waikiki Beach in Honolulu, Ka'anapali Beach in Maui, Lanikai Beach in Oahu, and Hapuna Beach on the Big Island.
3. Is it worth visiting multiple islands during a trip to Hawaii?
Yes, each Hawaiian island offers a unique experience. Visiting multiple islands allows you to explore diverse landscapes, from the lush beauty of Kauai to the vibrant culture of Oahu and the volcanic wonders of the Big Island.
4. What are some family-friendly activities in Hawaii?
Families can enjoy activities like snorkeling with sea turtles, exploring interactive exhibits at the Maui Ocean Center, visiting the Honolulu Zoo, and taking a submarine tour to see marine life up close.
5. Can I go whale watching in Hawaii?
Yes, Hawaii is a fantastic destination for whale watching. During the winter months (December to April), humpback whales migrate to Hawaii's warm waters, offering incredible opportunities to spot these majestic creatures.
6. What are some adventurous activities to try in Hawaii?
Adventure enthusiasts can enjoy hiking to hidden waterfalls, zip-lining over lush valleys, trying stand-up paddleboarding in calm waters, and taking helicopter tours to witness breathtaking views of the islands.
7. Are there any cultural experiences to immerse in while in Hawaii?
Absolutely! Engage in traditional Hawaiian luaus to experience authentic dance and cuisine, visit historic sites like the Iolani Palace and Pearl Harbor, and explore art galleries showcasing local talent.
8. How can I book tours or activities in advance for my trip to Hawaii?
Booking tours and activities in advance is recommended, especially during peak tourist seasons. Online platforms like Viator and Expedia offer a wide range of options to choose from.
9. What is the best time to visit Hawaii for a vacation?
Hawaii is a year-round destination, but April to June and September to November are generally less crowded with pleasant weather. Summer (June to August) is ideal for beach activities, and winter (December to March) is great for whale watching.
10. Can I visit the Pearl Harbor National Memorial in Hawaii?
Yes, the Pearl Harbor National Memorial on Oahu offers a poignant historical experience. Visitors can pay their respects at the USS Arizona Memorial and learn about the events of December 7, 1941.
11. Are there any opportunities for hiking in Hawaii?
Hiking enthusiasts will find plenty of trails suitable for all skill levels. Some popular hikes include the Diamond Head Summit Trail, Koko Crater Railway Trail, and the Kalalau Trail in Kauai's Napali Coast State Park.
12. How many days should I plan for a comprehensive trip to explore the best things to do in Hawaii?
The duration of your trip depends on the number of islands you want to visit and the activities on your wishlist. To experience the highlights of a few islands, plan at least 7 to 10 days. However, for a more immersive experience, consider extending your trip to two weeks or more.
Best Things to Do in Hawaii – Conclusion:
Hawaii beckons with a myriad of adventures, each more alluring than the last. From thrilling outdoor pursuits to serene moments of relaxation, the best things to do in Hawaii cater to every traveler's desires. Whether you seek adrenaline-pumping activities or a chance to rejuvenate amidst paradise, Hawaii's aloha spirit will embrace you, leaving indelible memories that will keep you returning to these enchanting islands time and time again. Make sure you experience as many of our best things to do in Hawaii as you can.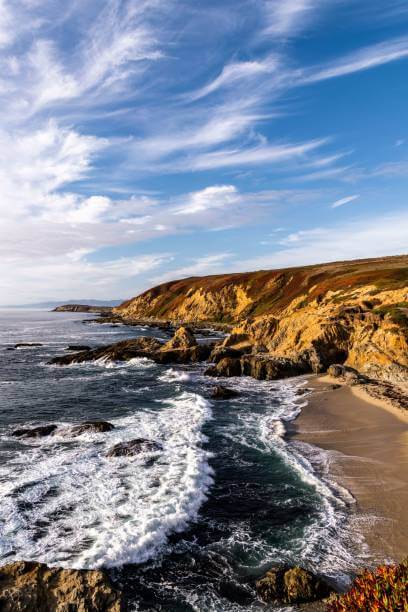 California, the Golden State, beckons with a dazzling array of destinations to explore. Venture to the wine country of Napa Valley, wander through the majestic redwoods of Sequoia National Park, or bask in the sun on the famous beaches of Santa Monica and Malibu. With its diverse landscapes, vibrant culture, and countless attractions, California promises an unforgettable journey through one of America's most captivating states.
Exploring the Uncharted: 5 Must-Visit Places in South Sudan South Sudan, the world's newest nation, is an undiscovered gem waiting to be explored. The Official advice is NOT TO TRAVEL TO SOUTH SUDAN! Anyway, moving right along.. During my journey through this uncharted territory, I uncovered hidden treasures, savored local flavors, and marveled at its…
Italy beckons travelers with its magnetic allure. From the captivating cities adorned with timeless architecture to the picturesque coastal towns and rolling vineyards, this Mediterranean gem offers a plethora of unforgettable experiences.
Exploring Greece's Timeless Treasures: Greece Best Places to Visit Top 10
Exploring Italy's Treasures: The Best Places to Visit in Italy
Our 10 Best Places to Visit in Venice: Come Explore the Enchanting Floating City
Unveiling the Enchanting Beauty: Our Best Places to Visit in Florence
Our Best Free Places to Visit in New York That are yes, Absolutely FREE!
Our Best 10 Affordable Vacation Destinations if you are on a tight budget.
Our 10 Best Budget Travel Tips: Explore the World Without Draining Your Bank Account.
These are our Top 10 Best Travel Destinations Worldwide
Our Absolute Best list of 10 Less Touristy Places to Travel in Europe
Australia: A Traveler's Paradise: Best Australian Destinations
Our 13 Best Things to Do in Hawaii – By David John
13 Best Things to Do in Hawaii Cover Image Courtesy: pt photo by Ian Frazier
Best Things to Do in Hawaii flickr images licensed under CC BY 2.0
Additional images: adobe, colourbox, istock, pexels, shutterstock, unsplash unless otherwise stated.
Were our '13 Best Things to Do in Hawaii' info helpful to you?
Let us know your thoughts in the comments below..
And if you are looking for a specific piece of information, please do comment below..