Our Top 5 Best Places To Visit In Andorra
Adventures in Andorra: Hidden Treasures of the Pyrenees
If you're on the lookout for an epic getaway filled with stunning landscapes, thrilling activities, and charming villages, Andorra is the place to be. I recently had the time of my life exploring this hidden gem, and I'm excited to share my top 5 favorite places to visit in Andorra with you. Buckle up, because this journey is about to get exciting!
Map of Andorra
Map Showing Andorra Location in Europe
Countries Bordering Andorra
Andorra is a small landlocked independent European co-principality situated among the southern peaks of the Pyrenees Mountains and bounded by France to the north and east and by Spain to the south and west. Andorra is the sixth-smallest state in Europe, with an area of 468 square kilometres (181 sq mi) and a population of approximately 80,000 people.
Our Top 5 Best Places To Visit In Andorra
1. Vallnord – Winter Wonderland Dream
Let's start with the ultimate winter wonderland – Vallnord! Picture this: gliding down powdery slopes, feeling the rush of cold air on your face, and hearing the laughter of fellow skiers. As a snowboarding enthusiast, hitting the slopes of Vallnord was a dream come true. The adrenaline-fueled descents, cozy mountain chalets, and the camaraderie among snow lovers made it an unforgettable experience.
Best Breakfast Spot: La Coma Restaurant – Kickstart your day with a hearty mountain breakfast before hitting the slopes.
2. Caldea Thermal Spa – Unwind and Rejuvenate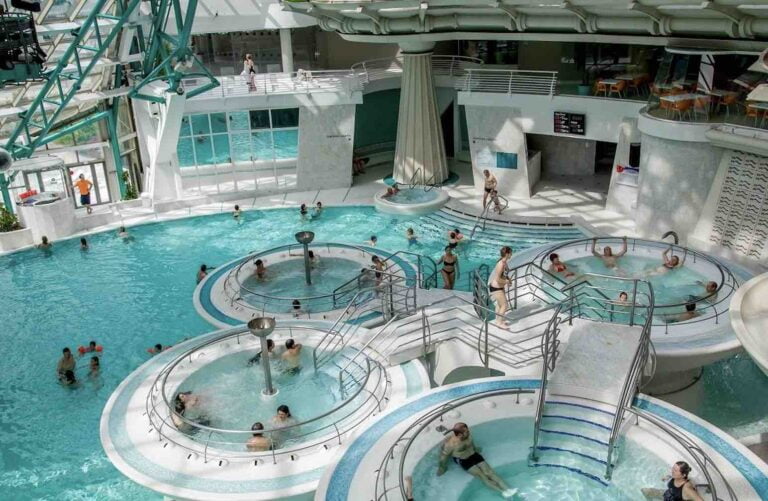 After days of thrilling snow adventures, a dose of relaxation was in order. Caldea Thermal Spa was my sanctuary. Imagine soaking in warm, soothing waters while surrounded by breathtaking mountain views. It was like a giant warm hug for my tired muscles. The spa's unique design, with its futuristic glass towers, made the experience even more surreal.
Top Coffee Pick: Inúu Café – Sip on a soothing latte while taking in the stunning mountain vistas.
3. Andorra la Vella – Urban Adventures and Shopping
City vibes, here we come! Andorra la Vella, the capital city, was a perfect blend of modern life and historical charm. Wandering through the winding streets of the old town felt like stepping back in time. Shopping for cool finds at duty-free boutiques was a definite highlight, and I scored some awesome souvenirs to remember the trip.
Best Place for Sundowners: Sky Bar at Hotel Andorra Center – Sip on a cocktail while watching the sunset paint the city in hues of orange and pink.
4. Sant Joan de Caselles – Serenity in the Mountains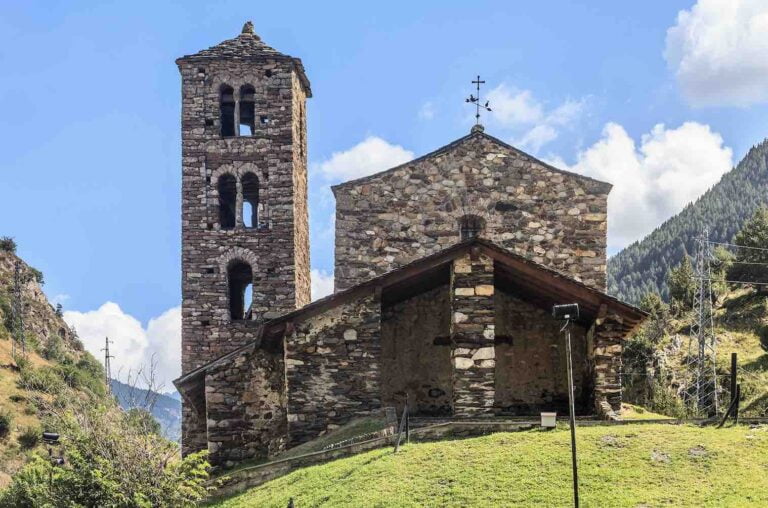 A short escape to the charming village of Sant Joan de Caselles was a breath of fresh air. The Romanesque church standing against the backdrop of lush green hills was a sight to behold. Exploring this tranquil spot allowed me to truly connect with nature and escape the hustle and bustle.
Little Gem: Explore the nearby trails – I stumbled upon a hidden clearing perfect for a peaceful picnic.
5. Encamp and Engolasters Lake – Nature's Masterpiece
Hiking to Engolasters Lake from Encamp was an adventure that stole my heart. The trail meandered through lush forests, and the reward was the crystal-clear lake surrounded by towering peaks. I couldn't resist dipping my toes in the water while taking in the majestic view.
Must-Try Delight: Grab some local pastries for your hike – they're the perfect energy boost.
Did we mention the food? EAT!
Andorra's culinary scene is a delightful blend of traditional flavors and international influences, making it a paradise for food enthusiasts. The country may be small, but its cuisine is big on taste. Indulge in hearty mountain dishes like "Trinxat," a satisfying combo of cabbage, potatoes, and bacon.
For a taste of Andorra's history, don't miss "Civet de Porc," a rich pork stew with a depth of flavors. As you explore charming villages, be sure to savor local cheeses, sausages, and artisanal bread. Andorra's cozy cafes and restaurants offer a range of international cuisines, from Italian to Asian fusion, ensuring that every palate is satisfied. Wash it all down with a glass of "Ratafia," a traditional herbal liqueur.
Whether you're enjoying comfort food in a mountain chalet or trying global flavors in the capital, Andorra's food scene is an essential part of your journey through this captivating country.
Essential Things to Know Before Traveling to Andorra
Before embarking on your adventure to Andorra, it's important to be well-prepared for a smooth and enjoyable trip. Here are some essential things to know before traveling to Andorra:
Entry Requirements: Check the entry requirements for your nationality. Andorra is not a member of the European Union, so entry regulations may differ. EU citizens typically don't require a visa, but non-EU citizens should confirm their visa requirements in advance.
Currency: Andorra uses the Euro (EUR) as its official currency. Make sure to have sufficient Euros with you or be prepared to withdraw cash from ATMs.
Language: While Catalan is the official language, many locals are proficient in Spanish and French. English is also spoken, especially in tourist areas, but learning a few basic Catalan phrases can enhance your experience.
Climate and Packing: Andorra experiences a mountainous climate with cold winters and cool summers. Pack layers, warm clothing, and comfortable footwear for outdoor activities. Don't forget sunscreen and sunglasses, even during winter.
Health and Travel Insurance: Ensure you have comprehensive travel insurance that covers medical expenses, as well as any outdoor activities you plan to undertake.
Health Precautions: Check if any vaccinations or health precautions are recommended before traveling to Andorra. It's a good idea to carry essential medications and a basic first aid kit.
Local Customs and Etiquette: Andorra is a conservative society, so dress modestly, especially when visiting religious sites or local villages. Public displays of affection should be kept discreet.
Tipping: Tipping is not obligatory, but it's appreciated for good service. In restaurants, rounding up the bill is common practice.
Transportation: Andorra's public transportation system is limited, so plan your transportation in advance. Renting a car is a popular option, as it allows you to explore the country at your own pace.
Mountain Safety: If you're planning to engage in outdoor activities like skiing or hiking, be sure to follow safety guidelines, check weather forecasts, and carry appropriate gear.
Shopping: Andorra is a tax haven, making it a great destination for shopping. Look for duty-free goods, electronics, fashion, and local crafts.
Cultural Sensitivity: Be respectful of local customs and traditions. When visiting churches or religious sites, dress modestly and avoid disruptive behavior.
Emergency Numbers: Familiarize yourself with the local emergency numbers, including medical assistance and police.
By keeping these essential factors in mind, you'll be well-prepared to enjoy your journey through Andorra's stunning landscapes, charming villages, and unique culture.
How to Get to Andorra
Getting to Andorra involves a combination of transportation options, as the country is landlocked and doesn't have its own airport. Here's how you can reach Andorra:
By Air:
The nearest major airports to Andorra are in neighboring countries, specifically in Spain and France. The most practical airports to consider are Barcelona-El Prat Airport (BCN) in Spain and Toulouse-Blagnac Airport (TLS) in France.
By Train:
There are no direct train connections to Andorra, but you can take a train to one of the nearby cities in Spain or France and then continue by bus or car. L'Hospitalet-près-l'Andorre in France and Lleida in Spain are common train transfer points.
By Bus or Shuttle:
Buses and shuttles provide a convenient way to travel from nearby cities to Andorra. Bus services operate from Barcelona and Toulouse, and some companies offer direct routes to Andorra's major towns.
By Car:
Renting a car and driving to Andorra is a popular option, especially if you want the flexibility to explore the country and its mountainous terrain. The roads leading to Andorra are well-maintained, but keep in mind that some mountain passes may be closed during winter due to snow.
By Helicopter:
For a unique and luxurious option, consider traveling by helicopter. There are helicopter services that operate between airports in nearby cities and Andorra. This can be a quicker and more scenic mode of transportation.
Public Transportation:
Andorra itself has a limited public transportation system. Once you arrive in Andorra, you can use local buses to get around within the country.
Remember that travel arrangements can be influenced by factors like season, current events, and travel advisories, so it's advisable to stay updated with the latest information and consider consulting with travel agencies or online resources for the most accurate and up-to-date guidance.
How to Get Around Andorra
Getting around Andorra is relatively straightforward, given its compact size and well-connected transportation options. Here's how you can navigate the country:
By Car:
Renting a car is a popular choice for getting around Andorra. The road network is well-maintained, and driving gives you the flexibility to explore at your own pace. Keep in mind that some roads may be steep and winding due to the mountainous terrain.
By Bus:
Andorra's bus network is efficient and offers connectivity between major towns and attractions. The buses are modern, comfortable, and provide a cost-effective way to travel. Bus routes cover both urban areas and scenic routes through the mountains.
By Taxi:
Taxis are readily available in Andorra and can be hailed on the street or booked in advance. They are especially useful for short trips within towns or to destinations not covered by buses.
By Walking:
Many of Andorra's towns and attractions are within walking distance of each other, making it a pleasant option for exploration. Walking allows you to soak in the picturesque surroundings and discover hidden gems.
By Bicycle:
Andorra's mountainous landscapes provide excellent opportunities for cycling enthusiasts. There are designated cycling routes and trails, and some rental shops offer bikes for various skill levels.
Cable Cars and Funiculars:
To access higher altitudes and enjoy panoramic views, consider taking cable cars and funiculars. These transport options are especially popular among hikers and skiers.
Horse-Drawn Carriages:
In some areas, you might find horse-drawn carriages that offer a unique way to explore the countryside. It's a charming and nostalgic mode of transportation.
Motorcycle and Scooter Rentals:
If you prefer a more adventurous way to get around, motorcycle and scooter rentals are available. Just ensure that you're comfortable with driving in mountainous terrain.
Local Apps and Maps:
Utilize local transportation apps or offline maps to navigate the country. They can help you plan routes, find bus schedules, and discover attractions.
Andorra's small size and efficient transportation options make it easy to explore the country's picturesque landscapes, charming towns, and cultural attractions. Whether you're seeking adventure, relaxation, or cultural immersion, there's a mode of transportation to suit your preferences.
FAQ – Our Top 5 Best Places To Visit In Andorra and Traveling to Andorra in General
Traveling to Andorra: Frequently Asked Questions (FAQ)
1. Do I need a visa to travel to Andorra?
Andorra is not part of the European Union, and entry requirements vary based on your nationality. EU citizens typically do not need a visa for short stays, while non-EU citizens should check visa requirements in advance.
2. What's the best time to visit Andorra?
The best times to visit Andorra are during the ski season (December to March) for winter sports enthusiasts and the summer months (June to August) for hiking and outdoor activities.
3. What currency is used in Andorra?
Andorra uses the Euro (EUR) as its official currency. Be prepared to have Euros on hand for your expenses.
4. What languages are spoken in Andorra?
Catalan is the official language, but Spanish and French are also widely spoken. English is spoken in tourist areas, but learning a few basic phrases in Catalan can enhance your experience.
5. What should I pack for my trip to Andorra?
Depending on the season, pack warm clothing, waterproof gear, comfortable walking shoes, sunscreen, and sunglasses. If you're visiting for winter sports, don't forget your ski gear and layers.
6. Are there any health precautions I should take before traveling to Andorra?
Check if any vaccinations are recommended before your trip. It's also advisable to have comprehensive travel insurance that covers medical expenses and outdoor activities.
7. What's the transportation like in Andorra?
Andorra has a well-connected transportation network including buses, taxis, and rental cars. Buses are a common mode of transportation within the country, and renting a car offers flexibility for exploring.
8. Are there any cultural norms to be aware of in Andorra?
Andorra is a conservative society. Dress modestly, especially in churches or when visiting local villages. Public displays of affection should be discreet.
9. Can I use my credit cards in Andorra?
Yes, credit cards are widely accepted in Andorra, especially in hotels, restaurants, and shops. However, it's advisable to carry some cash for smaller establishments.
10. What are some must-try dishes in Andorra?
Don't miss trying "Trinxat," a hearty dish of cabbage and potatoes, and "Civet de Porc," a rich pork stew. Andorra's culinary scene also offers a mix of international cuisines.
11. Is Andorra a good destination for outdoor activities?
Absolutely! Andorra's mountainous terrain makes it ideal for skiing, snowboarding, hiking, and mountain biking. There are also options for water sports and horseback riding.
12. How do I stay connected to the internet in Andorra?
Most hotels, restaurants, and public places offer free Wi-Fi. You can also consider getting a local SIM card for your phone or a portable Wi-Fi hotspot.
14. What's the emergency number in Andorra?
The emergency number for police, medical assistance, and fire services in Andorra is 112.
Remember that travel information can change, so it's important to verify details closer to your travel dates and prioritize your safety and well-being while exploring this stunning mountainous destination.
Best Places To Visit In Andorra: Frequently Asked Questions (FAQ)
1. What are the top attractions in Andorra?
Andorra offers a variety of attractions, including ski resorts, historic sites, natural landscapes, and charming villages. Some must-visit places include Vallnord ski resort, Caldea Thermal Spa, Andorra la Vella, and the picturesque village of Ordino.
2. Is Andorra known for outdoor activities?
Absolutely! Andorra's mountainous terrain makes it perfect for outdoor enthusiasts. Skiing, snowboarding, hiking, mountain biking, and horseback riding are popular activities.
3. What are the best times to visit for skiing and snowboarding?
The ski season in Andorra typically runs from December to March. The slopes are well-groomed, and the snowy landscapes provide excellent conditions for winter sports.
4. Are there any historic sites to explore in Andorra?
Yes, Andorra boasts historical gems like the Casa de la Vall in Andorra la Vella, Sant Joan de Caselles church, and the medieval town of Pal. These sites offer insights into the country's rich history.
5. Are there any natural wonders to see in Andorra?
The natural beauty of Andorra is captivating. Explore the Engolasters Lake, Coma Pedrosa Natural Park, and enjoy breathtaking views of the Pyrenees Mountains.
6. What's unique about the Andorran villages?
Andorra's villages exude charm with their stone houses, cobbled streets, and stunning mountain backdrops. Villages like Ordino and Canillo offer a glimpse into local life and culture.
7. Are there any cultural attractions in Andorra?
Absolutely. Don't miss the National Automobile Museum, the Postal Museum, and the Museum of Electricity to learn about Andorra's history, culture, and technological advancements.
8. Can I indulge in shopping in Andorra?
Yes, Andorra is a tax-free haven, making it a shopping paradise. Explore boutiques, electronics stores, and local markets for duty-free shopping.
9. How do I access the stunning viewpoints in Andorra?
You can access viewpoints by taking cable cars and funiculars. Options like the Vallnord and Grandvalira ski resorts offer breathtaking panoramic views of the landscapes.
10. Is Andorra known for its festivals and events?
Yes, Andorra hosts various festivals and events throughout the year. The Andorra la Vella International Jazz Festival and the Sant Jordi Day celebrations are just a couple of examples.
11. Can I explore the mountains beyond skiing and snowboarding?
Absolutely. Hiking in the summer is a popular way to explore Andorra's natural beauty. Trails like the GRP (Grand Randonnée de Pays) offer scenic routes for all levels.
12. How do I experience Andorra's cuisine?
Explore local restaurants and try traditional dishes like "Trinxat" and "Civet de Porc." Don't forget to sample local cheeses, sausages, and pastries.
13. Is Andorra family-friendly?
Yes, Andorra is a family-friendly destination with attractions suitable for all ages. Ski resorts, adventure parks, and nature trails offer plenty of options for family fun.
14. What are some hidden gems in Andorra?
Explore the untouched beauty of Coma Pedrosa Natural Park, discover the rustic charm of Canillo village, and immerse yourself in the local way of life in La Cortinada.
Remember that while planning your trip to Andorra, it's a good idea to verify opening hours, entry fees, and any local customs specific to the attractions you plan to visit. This will help you make the most of your journey through Andorra's diverse and enchanting destinations.
You want more on Places to Visit in Andorra? ⬇️ ⬇️ ⬇️
Our Top 5 Best Places To Visit In Andorra – Final Thoughts
Andorra is a treasure trove of adventures for young explorers like us. From conquering snow-covered slopes to finding serenity in charming villages, this small country packs a punch. Whether you're chasing adrenaline or seeking relaxation, Andorra has something for everyone. So pack your bags, embrace the thrill, and let Andorra work its magic on you!
Best Places to Visit in Spain 2023
Spain, a country rich in history, culture, and breathtaking landscapes, beckons travelers with its vibrant cities, stunning beaches, and captivating architecture. From the enchanting streets of Barcelona to the sun-kissed shores of the Costa del Sol, Spain offers a diverse array of destinations to explore..
Europe, a continent as diverse as it is beautiful, is a traveler's dream come true. From the snow-capped peaks of the Alps to the sun-kissed beaches of the Mediterranean, Europe offers an enchanting mix of experiences for every type of traveler. Join us as we embark on a journey through the heart of Europe, discovering…
Best Places to Visit in Italy 2023
Italy, a land of romance, rich history, and breathtaking landscapes, beckons travelers with its magnetic allure. From the captivating cities adorned with timeless architecture to the picturesque coastal towns and rolling vineyards, this Mediterranean gem offers a plethora of unforgettable experiences..
Exploring Greece's Timeless Treasures: Greece Best Places to Visit Top 10
Exploring Italy's Treasures: The Best Places to Visit in Italy in 2023
Our 10 Best Places to Visit in Venice: Come Explore the Enchanting Floating City
Unveiling the Enchanting Beauty: Our Best Places to Visit in Florence
Our Best Free Places to Visit in New York That are yes, Absolutely FREE!
Our Best 10 Affordable Vacation Destinations if you are on a tight budget.
Our 10 Best Budget Travel Tips: Explore the World Without Draining Your Bank Account.
These are our Top 10 Best Travel Destinations Worldwide 2023
Our Absolute Best list of 10 Less Touristy Places to Travel in Europe 2023
Australia: A Traveler's Paradise: Best Australian Destinations 2023
Our Top 5 Best Places To Visit In Andorra – By David John
5 Best Places To Visit In Andorra Cover Image by jr
Best Places To Visit In Andorra flickr images licensed under CC BY 2.0
Additional images: adobe  ·  colourbox  ·  istock  ·  pexels  ·  shutterstock  ·  unsplash  unless otherwise stated.
Were our Top 5 Best Places To Visit In Andorra helpful to you?
Let us know your thoughts in the comments below..
And if you are looking for a specific piece of information, please do comment below..