Our Top 10 Best Places to Visit in Mexico:
Best Places to Visit in Mexico: Unveiling Mexico's Treasures
Mexico, a captivating tapestry of vibrant cultures, ancient civilizations, and breathtaking landscapes, beckons travelers with its warm hospitality and diverse offerings. From the azure waters of the Caribbean to the rugged mountains and arid deserts, this enchanting country is a treasure trove of unforgettable experiences. Join us as we journey through some of the best places to visit in Mexico.
Our 10 Best Places to Visit in Mexico:
1. Cancún and the Riviera Maya:
Nestled along the eastern coast, Cancún and the Riviera Maya boast some of Mexico's most stunning beaches. Visitors can bask in the sun at Playa del Carmen, explore the underwater wonderland of the Great Maya Reef, and immerse themselves in the ancient ruins of Tulum. Don't miss the chance to swim in the crystal-clear waters of the cenotes, natural sinkholes unique to this region.
2. Mexico City:
The heart and soul of Mexico, the bustling capital city is a dynamic mix of old and new. Explore the historic center's colonial architecture, visit the awe-inspiring National Museum of Anthropology, and indulge in authentic Mexican cuisine at the city's vibrant street markets. For a mesmerizing experience, witness the iconic Ballet Folklórico performance at the Palacio de Bellas Artes.
3. Chichen Itza:
As one of the New Seven Wonders of the World, Chichen Itza is a must-visit archaeological site. The ancient Mayan city showcases the awe-inspiring Kukulkan Pyramid, a testament to the Mayan civilization's architectural brilliance. Visiting during the spring or autumn equinoxes rewards travelers with a fascinating play of light and shadow, creating an illusion of a descending serpent.
4. Oaxaca:
Rich in indigenous traditions and vibrant arts, Oaxaca offers a captivating cultural experience. The city's colonial charm and colorful buildings add to its allure.
Be sure to explore the nearby Hierve el Agua, a petrified waterfall with natural mineral springs, and savor the delectable Oaxacan cuisine, known for its moles and tlayudas.
5. Guanajuato:
A UNESCO World Heritage site, Guanajuato is a picturesque colonial city nestled amidst the Sierra de Guanajuato mountains. Its winding alleys, colorful houses, and underground streets exude a romantic ambiance. Don't miss the chance to attend the International Cervantes Festival and explore the eerie yet fascinating Museo de las Momias.
6. Puerto Vallarta:
Nestled along the Pacific Coast, Puerto Vallarta is a charming beach destination that seamlessly blends old-world charm with modern comforts. Stroll along the Malecón boardwalk, savor fresh seafood in the Zona Romántica, and embark on a boat tour to the hidden beaches and turquoise waters of Marietas Islands.
7. Palenque:
Hidden in the lush jungles of Chiapas, the ancient city of Palenque offers a captivating archaeological experience. The well-preserved temples and structures, such as the Temple of the Inscriptions, provide a glimpse into the mysteries of the Maya civilization.
8. Copper Canyon: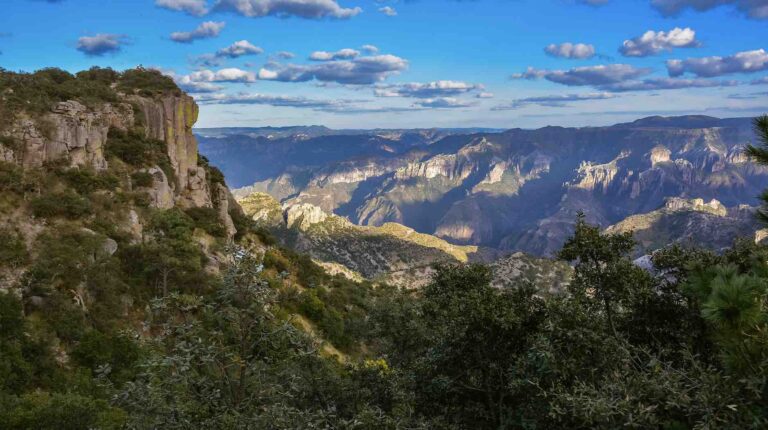 For adventurous souls, the Copper Canyon in Chihuahua offers unparalleled vistas and thrilling train rides. Often compared to the Grand Canyon, this vast network of canyons is a paradise for hikers and nature lovers.
9. Los Cabos:
This picturesque region at the southern tip of the Baja California Peninsula boasts stunning resorts, pristine beaches, and abundant marine life. Snorkel or dive in Cabo Pulmo National Park, indulge in world-class golf courses, and witness the breathtaking sight where the Pacific Ocean meets the Sea of Cortez.
10. Tulum:
Known for its bohemian vibes and eco-friendly resorts, Tulum is a dream destination for travelers seeking relaxation and spiritual rejuvenation. Explore the stunning Tulum Ruins perched atop cliffs overlooking the Caribbean Sea and unwind on the idyllic beaches with swaying palm trees..
Frequently Asked Questions (FAQ) – Places to Visit in Mexico
1. Q: What are some must-visit cities in Mexico?
A: Mexico is a diverse country with many captivating cities. Some popular ones include:
Mexico City: The vibrant capital city known for its rich history, culture, and impressive landmarks like the Zocalo and Teotihuacan.
Cancun: A world-renowned beach destination on the Yucatan Peninsula, famous for its pristine beaches and lively nightlife.
Guadalajara: Mexico's second-largest city, celebrated for its mariachi music, colonial architecture, and hospitable atmosphere.
Oaxaca: A charming city known for its indigenous culture, unique cuisine, and stunning historical buildings.
2. Q: What natural wonders can I explore in Mexico?
A: Mexico is blessed with incredible natural beauty. Some notable natural wonders include:
Copper Canyon: Larger and deeper than the Grand Canyon, this geological marvel is in the state of Chihuahua.
Cenotes: Sinkholes filled with crystal-clear groundwater, prevalent in the Yucatan Peninsula, perfect for swimming and diving.
Sumidero Canyon: A breathtaking canyon in Chiapas with lush vegetation and the Grijalva River flowing through it.
Monarch Butterfly Biosphere Reserve: Witness millions of monarch butterflies during their annual migration in Michoacán.
3. Q: What are the top archaeological sites in Mexico?
A: Mexico has a rich history of ancient civilizations, and some of the top archaeological sites are:
Chichen Itza: A UNESCO World Heritage Site on the Yucatan Peninsula, featuring the iconic El Castillo pyramid.
Teotihuacan: An ancient city near Mexico City, boasting the Pyramid of the Sun and the Pyramid of the Moon.
Palenque: A Mayan city surrounded by lush jungle in Chiapas, renowned for its stunning architecture and sculptures.
Uxmal: Another impressive Mayan city with well-preserved structures and intricate carvings in the Puuc region.
4. Q: What are the best beach destinations in Mexico?
A: Mexico's coastline offers a plethora of beautiful beaches. Some top beach destinations are:
Tulum: A coastal gem on the Riviera Maya with picturesque beaches and ancient Mayan ruins overlooking the sea.
Playa del Carmen: A vibrant coastal town with a lively atmosphere, great shopping, dining, and white sandy beaches.
Puerto Vallarta: A Pacific Coast paradise known for its stunning sunsets, water sports, and vibrant nightlife.
Cabo San Lucas: Located at the tip of the Baja California Peninsula, famous for its dramatic rock formations and luxury resorts.
5. Q: Are there any off-the-beaten-path destinations to explore in Mexico?
A: Yes, Mexico offers several lesser-known destinations for adventurous travelers. Some of them are:
Guanajuato: A colorful colonial town with underground streets and an intricate network of tunnels.
Bacalar: A hidden gem in Quintana Roo, boasting the mesmerizing "Lake of Seven Colors" with various shades of blue.
San Cristobal de las Casas: A picturesque highland town in Chiapas with a mix of indigenous and colonial influences.
Isla Holbox: A tranquil island off the Yucatan Peninsula, known for its laid-back vibe and abundant marine life.
Remember to check the latest travel advisories and local guidelines before planning your trip. Enjoy your visit to Mexico and immerse yourself in its rich history, culture, and natural wonders!
Best Places to Visit in Mexico – Final Thoughts:
Mexico's beauty extends far beyond this list, but these ten destinations capture the essence of this captivating country. Whether it's history, culture, or natural wonders you seek, Mexico is sure to enchant you with its diverse offerings and warm hospitality. So pack your bags and embark on a journey of discovery in the land of enchantment.
Best Places to Visit in Spain 2023
Spain, a country rich in history, culture, and breathtaking landscapes, beckons travelers with its vibrant cities, stunning beaches, and captivating architecture. From the enchanting streets of Barcelona to the sun-kissed shores of the Costa del Sol, Spain offers a diverse array of destinations to explore..
Exploring the Uncharted: 5 Must-Visit Places in South Sudan South Sudan, the world's newest nation, is an undiscovered gem waiting to be explored. The Official advice is NOT TO TRAVEL TO SOUTH SUDAN! Anyway, moving right along.. During my journey through this uncharted territory, I uncovered hidden treasures, savored local flavors, and marveled at its…
Best Places to Visit in Italy 2023
Italy, a land of romance, rich history, and breathtaking landscapes, beckons travelers with its magnetic allure. From the captivating cities adorned with timeless architecture to the picturesque coastal towns and rolling vineyards, this Mediterranean gem offers a plethora of unforgettable experiences..
Exploring Greece's Timeless Treasures: Greece Best Places to Visit Top 10
Exploring Italy's Treasures: The Best Places to Visit in Italy in 2023
Our 10 Best Places to Visit in Venice: Come Explore the Enchanting Floating City
Unveiling the Enchanting Beauty: Our Best Places to Visit in Florence
Our Best Free Places to Visit in New York That are yes, Absolutely FREE!
Our Best 10 Affordable Vacation Destinations if you are on a tight budget.
Our 10 Best Budget Travel Tips: Explore the World Without Draining Your Bank Account.
These are our Top 10 Best Travel Destinations Worldwide 2023
Our Absolute Best list of 10 Less Touristy Places to Travel in Europe 2023
Australia: A Traveler's Paradise: Best Australian Destinations 2023
Our 10 Best Places to Visit in Mexico – By David John
10 Best Places to Visit in Mexico Cover Image by tww
Best Places to Visit in Mexico flickr images licensed under CC BY 2.0
Additional images: adobe – colourbox – istock – pexels – shutterstock – unsplash unless otherwise stated.
Were our 10 Best Places to Visit in Mexico helpful to you?
Let us know your thoughts in the comments below..
And if you are looking for a specific piece of information, please do comment below..